Sanjay Mehta  is the General Secretary of World Hindu Council of America (VHPA). He is an active member of interfaith group. He is a Sunday school (Bal Vihar) teacher for three decades. He presents and speaks on Hindu teachings in various forums. He serves as a Seva (service) coordinator for many local and national groups. He is involved in Bhutanese refugees'settlement initiatives. He is an Information Technology professional. He lives in Pittsburgh, PA with wife, daughter and son.
By Rahul Chandra | 04-20-2014 | Hartford, CT, USA
When did you come to the US?
1996
What made you concern about American Hindu movement?
Sustenance and propagation of Hindu values in America.
 When did you join VHPA (Vishwa Hindu Parishad of America)?
1996
What are the social issues Hindus face in America? Any example?
Identity Crisis – Many Hindus lack identity as a 'Hindu'. Most parents lack religious texts knowledge and insufficient guidance from Dharma (religious) Gurus. Insufficient guidance from Dharma guru leads to lack of religious texts knowledge in parents and this leads to identity issues.  
What do you mean by identity issues?
Sanjay Mehta: Everything in western religion philosophy is Abrahamic (Christianity, Judaism, Islam), thus Hindu faith is not considered as religion and is left out from American main stream faith groups. Meaning that you are not identified as 'Hindu' and from above answer additionally many Hindus are not equipped to project and present their faith among followers of Abrahamic faiths.
For example: Recently we had a conference in US city – a women conference (interfaith) organized by Islamic group. It was hard to find a young Hindu woman who can represent Hindu faith in the gatherings of other faith woman.
What's the percentage of women participation in VHPA projects?
30% in Executive Board and 30% in Governing Council of VHPA. In VHPA Hindu youth category projects like CHY (Coalition of Hindu Youth) and HSC (Hindu Students Council), is close to 50%.
What role VHPA has in American Hindu society?
Core work of VHPA is to network Hindu groups in America in order to sustenance and propagate Hindu Dharma in America through various programs and projects.
Please mention some programs and projects pertinent to Hindu group networking? 
Bal Vihar – Sunday school teaching Hindu values to kids (6 – 16 Years)

Youth Camps – A week long residential camping activity focused at teaching Hindu values to kids (6 – 19 Year)

HMEC – Hindu Mandir (Temple) Executives' Conference: Conference of executives of temples in North America (100+ Temples since 2007 are participating in this annual conference).

Hindu Youth Network (CHY – Coalition of Hindu Youth)

Hindu Mandir Priest Conference – An annual conference to bring Hindu priests together and to brainstorm on making Hindu spiritual modes of worship more meaningful to younger generations. 

Hindu Senior Adult Conference (HAVAN) – To engage Vanprasthis (senior adults0 in more meaningful activities by leveraging their wealth of experience.

Hindu Women Conference (HWN) –To engage Hindu women to make societies and families stronger on Sanatan Dharma values.

Working with Hindus outside of North America – India, Bangladesh, Pakistan, Indonesia, Caribbean   and worldwide.
How Hindus of America can contribute to American society?
One of the strongest attribute of Hindu lifestyle is family bonding, relationship and sacrifices (in family context). By practicing our self, Hindus can propagate these values in American society for betterment.
How can Hindus residents in America become VHPA member?
VHPA is membership based organization; one can enroll as a member at
Any message for World Hindu News audience?
One can discharge his / her duty towards Hindu Dharma by enrolling and supporting VHPA.
How can one support and enroll in VHPA Projects?
One can join VHPA as a member at: http://ess.vhp-america.org/mms/index.php
One can donate to VHPA projects at: http://ess.vhp-america.org/dms/contribute.php?
One can join as volunteer at local chapter level by contacting chapter office bearers at: http://www.vhp-america.org/chapters
 Jai Sri Krishna!
__________________________________________________________________________________________________________________________________________________________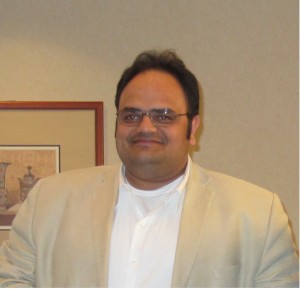 Rahul Chandra is a member of World Hindu News editorial board and a freelancer journalist. For more than a decade, he has been reporting, developing and publishing news & press releases for US and Indian Hindu organizations. Previously he has been an editor at World Hindu Council of America (VHPA) quarterly publication – Hindu Newsletter and Hindu Digest based out of Washington, DC. He has also been a media and PR coordinator for Hindu Congress of America (HMSA) at Texas in 2011. His interests include Hindu philosophies, Hindu human rights and Hindu social & political empowerment related journalism. He has also reported and published news on plight of Pakistani Hindu refugee in India and Bhutanese Hindu refugees in US. You can contact him for interview opportunities at rahul.chandra@worldhindunews.com. 
—————————————————————————————————————————————————————————————————————————————————————————
Disclaimer: The opinions expressed within this interview are the opinions of the interviewee on behalf of his / her organization. World Hindu News  is not responsible for the accuracy, completeness, suitability, or validity of any information on this article. All information is provided on an as-is basis. The information, facts or opinions appearing in the article do not reflect the views of World Hindu News and World Hindu News. does not assume any responsibility or liability for the same.