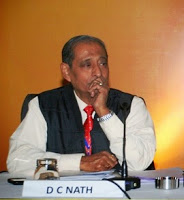 President of Patriots Forum, D.C. Nath was superannuated in January, 1995, as the Special Director, Intelligence Bureau, D.C. Nath (IPS-1960) was associated with the International Institute of Security and Safety Management (IISSM), headquartered in New Delhi, for over 14 years, first as the Executive President & CEO and then as the President & Director General, between February, 1997 and March, 2011. The author of a highly acclaimed book, Intelligence Imperatives for India, Mr. Nath earned high plaudits from all around for two of his very significant presentations on: "Revisiting the Future of India" (2005, London) and "Lessons from India for the War On Terrorism" (2007, USA). He is the only one in the field, combining the experiences of a police officer with specialization in intelligence and strategic analysis and an industrial security expert par excellence. More Bio on D. C. Nath…
OPINION>>>>
January 31, 2015
Dear Friends,
Subject: Basant Panchami Again
Let us first say what an excellent and relevant poem you have recalled! Nothing could have been more appropriate. And, this has come when with a lot of trepidation in heart whether or not we should bother busy people with our personal predilection. Now, we find we were more than justified. The present generation, pretty illiterate as they are about the true significance of the nuances of our rituals, must be made aware of things such as this.
And, you have added the real charisma to the issue. One wishes one could have been as learned as you are. We could then have served the motherland much better. I do not have the temerity to thank you for what you have shared with us. We would ensure it reaches our friends and well-wishers.
Now, here goes the operating part of the remarkable response mail from Shri R K Ohri, a scholar in his own right, and the friend, philosopher, guide and Guru to many of us in the Forum.
Quote (.)
Thank you Dhanesh for forwarding the beautiful narrative about Basnt Panchami auhored by K K Khullar.
In my humble opinion, the best lyrical tribute to Basant was penned down by the famous Hindi poetess Subhadra Kumari Chauhan. If I remember correctly, she heralded the Basant Panchami thus :
"Veeron ka kaisa ho Basant ?
Gal bahein ho ya ho kripan, chal chitvan ho ya dhanush ban,
Hae rang or rann ka vidhan, milne aye hain aadi antah
Veeron ka kaisa ho Basant ?
Phooli sarason ne diya rang, Madhu lekar aa pahuncha anang
Vadhu vasudha pulkit anga, anga,
Hai Veer Bhesh mein kintu kant
Veeron ka kaisa ho Basant ? ……
Aye Kurukshetra ab jaag, jaag, batla apne anubhav anantah
Veeron, ka kaisa ho Basant ?
etc,. ……………………………………"
It is a beautiful poem written in 'Veer Rasa' by the celebraed potess.
Regards
Ram
Unquote (.)
Friends, we are confident, there, remains to be said on this great festival.
Vandemataram,
Your sevak,
D.C. Nath
(Former Spl. Director, IB)
(President, Patriots' Forum)
Source: Patriot Forum
Disclaimer: The opinions expressed within this article /news /published content are the personal opinions of the submitting author / organization. World Hindu News  is not responsible for the accuracy, completeness, suitability, or validity of any information on this article /news/published content. All information  received is provided on an as-is basis. The information, facts or opinions appearing in the article / news /published content do not reflect the views of World Hindu News and World Hindu News does not assume any responsibility or liability for the same.