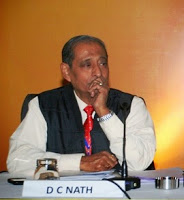 President of Patriots Forum, D.C. Nath was superannuated in January, 1995, as the Special Director, Intelligence Bureau, D.C. Nath (IPS-1960) was associated with the International Institute of Security and Safety Management (IISSM), headquartered in New Delhi, for over 14 years, first as the Executive President & CEO and then as the President & Director General, between February, 1997 and March, 2011. The author of a highly acclaimed book, Intelligence Imperatives for India, Mr. Nath earned high plaudits from all around for two of his very significant presentations on: "Revisiting the Future of India" (2005, London) and "Lessons from India for the War On Terrorism" (2007, USA). He is the only one in the field, combining the experiences of a police officer with specialization in intelligence and strategic analysis and an industrial security expert par excellence. More Bio on D. C. Nath…
OPINION>>>>
January 9, 2014
Dear Friends,
Subject: Call For Reform In Islam—Egyptian President
We have been startled in the morning by a small report from Agencies from Cairo, "From Egypt Prez, A Call For 'Reform In Islam", appearing in "The Times Of India" of January 9, 2014.
We can read the mail together:
From Egypt prez, a call for 'reform in Islam'
Agencies | Jan 9, 2015,
http://timesofindia.indiatimes.com/world/middle-east/From-Egypt-prez-a-call-for-reform-in-Islam/articleshow/45816917.cms
CAIRO: Egypt's president opened the new year with a call for a "revolution" in Islam to reform interpretations of the faith entrenched for hundreds of years, which he said have made the Muslim world a source of "destruction" and pitted it against the rest of the world. The speech was Abdel-Fattah el-Sissi's boldest effort yet to position himself as a modernizer of Islam.
His professed goal is to purge the religion of extremist ideas of intolerance and violence that fuel groups like al-Qaida and ISIS -and that appear to have motivated the attack in Paris. But those looking for the "Muslim Martin Luther" bringing a radical Reformation of Islam may be overreaching -and making a false comparison to begin with. El-Sissi is clearly seeking to impose change through the state, using government religious institutions like the 1,000-year-old al-Azhar, one of the most eminent centres of Sunni Muslim thought and teaching.
Al-Azhar's vision for change, however, is piecemeal, and conservative, focusing on messaging and outreach but wary of addressing more controversial issues. Al-Azhar officials tout a YouTube channel to reach out to the young, mimicking radicals' successful social media outreach. They proudly point out that clerics in the videos wear suits, not alAzhar's traditional robes and turbans, to be more accessible. In a more ambitious effort, religious school textbooks are under review. An al-Azhar official said texts outlining rules for slavery, for instance, have been removed.
Friends, the significant portions in the report have been highlighted. It seems more follow-up action is both envisaged and is being taken.
Do we keep our fingers crossed?
Vandemataram,
Your sevak,
D.C. Nath
(Former Spl. Director, IB)
(President, Patriots' Forum)
Source: Patriot Forum
Disclaimer: The opinions expressed within this article /news /published content are the personal opinions of the submitting author / organization. World Hindu News  is not responsible for the accuracy, completeness, suitability, or validity of any information on this article /news/published content. All information  received is provided on an as-is basis. The information, facts or opinions appearing in the article / news /published content do not reflect the views of World Hindu News and World Hindu News does not assume any responsibility or liability for the same.