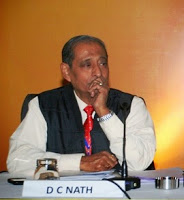 President of Patriots Forum, D.C. Nath was superannuated in January, 1995, as the Special Director, Intelligence Bureau, D.C. Nath (IPS-1960) was associated with the International Institute of Security and Safety Management (IISSM), headquartered in New Delhi, for over 14 years, first as the Executive President & CEO and then as the President & Director General, between February, 1997 and March, 2011. The author of a highly acclaimed book, Intelligence Imperatives for India, Mr. Nath earned high plaudits from all around for two of his very significant presentations on: "Revisiting the Future of India" (2005, London) and "Lessons from India for the War On Terrorism" (2007, USA). He is the only one in the field, combining the experiences of a police officer with specialization in intelligence and strategic analysis and an industrial security expert par excellence. More Bio on D. C. Nath…
News Research & Analysis Files-
Magazine attack set to deepen Europe's 'culture war' << News analysis file 1
OPINION>>>>
January 10, 2014
Dear Friends,
Subject: Dividend From Charlie Hebdo (France): "Culture War" In Europe.
We would request you to read this mail in the backdrop of what we have shared with as "France Attacked." As anticipated, Charlie Hebdo has evoked sharp reaction from different quarters across Europe. This has been rightly dubbed as Europe's "Culture War."
· France has Europe's largest Muslim population and is in the throes of a virulent debate over national identity and the role of Islam.
The following will illustrate how it has so far impacted not only Europe but the US as well.An indian Muslim has also spontaneously came out in support of the dastardly attack.Let us read some of the salient points in the attached mail:
· A book by journalist Eric Zemmour entitled "Le suicide francais" (French suicide), arguing that mass Muslim immigration is among factors destroying French secular values, was the best-selling essay of 2014. The publishing event of the new year is a novel by controversial author Michel Houellebecq that imagines a Muslim president winning power in 2022 and enforcing religious schooling and polygamy in France and banning women from working.
· "Anyone who says Islamist radicalism has nothing to do with immigration is living on another planet," Philippot told RTL radio.
· A survey last year found French people believe immigrants make up 31 percent of the population, roughly four times the real number. Although France collects no ethnic or religious statistics, a reliable estimate published by the Pew Research Centre put the Muslim population at about 7.5 percent.
· A poll taken in November, well before the Paris attack, found 57 percent of non-Muslim Germans feel threatened by Islam.
· Social scientists say neither France's secular integration model, which confines religion to the private sphere and bars the wearing of religious symbols in schools and government buildings, nor the multicultural British and U.S. model, which recognizes separate ethnic and religious communities, has prevented violence by a fringe of alienated young Muslims.
This is what irrepressible Geert
Wilders said: "In the Netherlands, traumatized by the killing of film producer Theo van Gogh by an Islamist gunman 10 years ago, outspoken anti-Islam campaigner Geert Wilders is topping public opinion polls. Within minutes of the Paris events, Wilders, who has lived under police protection for a decade, repeated calls to close Dutch borders to Muslim immigrants and said in a statement: "The West is at war and should de-Islamize."
We further learn another skirmish has taken place in Paris yesterday (January 9,2015). While this may not be the last such attack that the French Government is trying to prevent, a view has been expressed in responsible quarters that no doubt an act of such brutal terrorism has to be condemned every where but in France, this was perhaps anticipated any time. The satire by the Charlie Hebdo was not only continuous but so pointedly directed against Prophet that the terror attack on it has perhaps not come too early. The right of freedom of expression had been taken too far, as had happened in the case of the painter Hussain who took artististc licence too far by lampooning Hindu Gods and Goddesses in the filthy sexual pleasure he must have derived in such perversion.
Well, Friends, leaving that aside, the basic issue that we feel is rather important whether we will soon see some coordinated plan and effort to take on what truly is a "cultural war".
Vandemataram,
Your sevak,
D.C. Nath
(Former Spl. Director, IB)
(President, Patriots' Forum)
Source: Patriot Forum
Disclaimer: The opinions expressed within this article /news /published content are the personal opinions of the submitting author / organization. World Hindu News  is not responsible for the accuracy, completeness, suitability, or validity of any information on this article /news/published content. All information  received is provided on an as-is basis. The information, facts or opinions appearing in the article / news /published content do not reflect the views of World Hindu News and World Hindu News does not assume any responsibility or liability for the same.