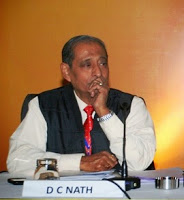 President of Patriots Forum, D.C. Nath was superannuated in January, 1995, as the Special Director, Intelligence Bureau, D.C. Nath (IPS-1960) was associated with the International Institute of Security and Safety Management (IISSM), headquartered in New Delhi, for over 14 years, first as the Executive President & CEO and then as the President & Director General, between February, 1997 and March, 2011. The author of a highly acclaimed book, Intelligence Imperatives for India, Mr. Nath earned high plaudits from all around for two of his very significant presentations on: "Revisiting the Future of India" (2005, London) and "Lessons from India for the War On Terrorism" (2007, USA). He is the only one in the field, combining the experiences of a police officer with specialization in intelligence and strategic analysis and an industrial security expert par excellence. More Bio on D. C. Nath…
News Research & Analysis Files-
The Hindu Rate Of Wrath<< News analysis file 1
OPINION>>>>
March 2, 2015
Dear Friends,
Subject:
​​Francois Gautier Again—"The Hindu Rate Of Wrath"
We are with Francois Gautier again. He starts his beautiful piece, raising the question: "Is there such a thing as 'Hindu terrorism'?" Referring to some incidents involving Hindus, his judgement is clear: "What should be understood is that this is spontaneous revolution on the ground, by ordinary Hindus, without any planning from the political leadership."
Francois' assessment of average Hindus and Hinduism:
· From early 1980s, I slowly realised that the genius of this country lies in its Hindu ethos, in the true spirituality behind Hinduism.The average Hindu you meet in a million villages possesses this simple, innate spirituality and accepts your diversity, whether you are Christian or Muslim, Jain or Arab, French or Chinese. It is this Hinduness that makes the Indian Christian different from, say, a French Christian, or the Indian Muslim unlike a Saudi Muslim.
He read his history correctly:
· In 3,500 years of existence, Hindus have never militarily invaded another country, never tried to impose their religion on others by force or induced conversions. You cannot find anybody less fundamentalist than a Hindu in the world and it saddens me when I see the Indian and western press equating terrorist groups like SIMI, which blow up innocent civilians, with ordinary, angry Hindus who burn churches without killing anybody.
When it is "enough is enough":
· Hindus, the overwhelming majority community of this country, are being made fun of, are despised, are deprived of the most basic facilities for one of their most sacred pilgrimages in Amarnath while their government heavily sponsors the Haj. They see their brothers and sisters converted to Christianity through inducements and financial traps, see a harmless 84-year-old swami and a sadhvi brutally murdered. Their gods are blasphemed. So sometimes, enough is enough.
Let us take note of how Francois assesses the Babri Masjid demolition:
However reprehensible the destruction of Babri Masjid, no Muslim was killed in the process; compare this to the 'vengeance' bombings of 1993 in Bombay, which wiped out hundreds of innocents, mostly Hindus.
Francois has named his piece (attached) as "The Hindu Rate of Wrath". We shall go a little beyond where he has left it. As we see and assess, the "sleeping" Hindus have yet to wake up and react to what all is being done against them, making them feel a second grade citizen in their own homeland. The "revolution" that Francois calls "spontaneous" has not really started yet. It is taking time because all Indians, by and large, are peace loving, the Hindus in particular. It is time, if not over due, that the Hindus do unite to protest and rise against what "clear religious terrorism" they have gone through, especially even after Independence. One is bound to react when put against the wall.
Additionally, the discrimination heaped on the Hindus vis-a-vis the so-called minorities by the former UPA government and being tragically continued even under the present so-called pro-Hindu regime is bound to give rise to more instances of what Francois has rightly called spontaneous revolt. That it has not yet taken shape is surprising. Perhaps, history is in the making. In any case, friends, those of you agree with this line of thinking, may like to lead the way. We plead: kindly take lead. In the language of that great mind, "Arise, Awake and Stop not till the goal is reached." We humbly add, time is not on our side.
Vandemataram,
Your sevak,
D.C. Nath
(Former Spl. Director, IB)
(President, Patriots' Forum)
Source: Patriot Forum
Disclaimer: The opinions expressed within this article /news /published content are the personal opinions of the submitting author / organization. World Hindu News  is not responsible for the accuracy, completeness, suitability, or validity of any information on this article /news/published content. All information  received is provided on an as-is basis. The information, facts or opinions appearing in the article / news /published content do not reflect the views of World Hindu News and World Hindu News does not assume any responsibility or liability for the same.