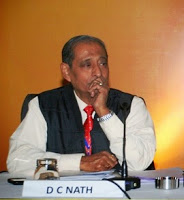 President of Patriots Forum, D.C. Nath was superannuated in January, 1995, as the Special Director, Intelligence Bureau, D.C. Nath (IPS-1960) was associated with the International Institute of Security and Safety Management (IISSM), headquartered in New Delhi, for over 14 years, first as the Executive President & CEO and then as the President & Director General, between February, 1997 and March, 2011. The author of a highly acclaimed book, Intelligence Imperatives for India, Mr. Nath earned high plaudits from all around for two of his very significant presentations on: "Revisiting the Future of India" (2005, London) and "Lessons from India for the War On Terrorism" (2007, USA). He is the only one in the field, combining the experiences of a police officer with specialization in intelligence and strategic analysis and an industrial security expert par excellence. More Bio on D. C. Nath…
News Research & Analysis Files-
OPINION>>>>
April 18, 2015
Dear Friends,
Subject: Ghar Wapasi Again
Although a lot of hue and cry has been raised on this what we have felt a non- issue, we are back to it so as to share with you what a distinguished Christian, C I Issac, says "The politics of Ghar Vapasi" (the concerned mail that has been doing rounds is attached).
Starting with the statement that Art.25 is not a provision for only one-way traffic, he feels:
· In no way with this Article did the founding fathers think of any sort of conversion. Their intention was the healthy coexistence of all cultures and religious groups. Conversion by brainwashing, coercion, allurement, incentives, etc. is cruel in cultural terms. So it doesn't come under the purview of Article 25. Such subversive practices seem just under the law of the wild, that is, might is right, or matsya nyaya (law of the fishes).
Tracing history behind this development of not so distant past, the writer then adds: "Certain media and Church circles contend that this movement began only after 26 May 2014. But this is not a new movement begun by the ever-shrinking Hindu society. It was started as the shuddhi movement in the 19th century by Arya Samaj leader, Swami Dayananda Saraswati."
He continued, "From the 16th century onwards, Christians have been in action, carving out sizable numbers to their fold by using fourfold tactics (chatur-upayam). In this situation, a proud Hindu could not remain a silent onlooker. That is why Swami Dayananda Saraswati took the lead and the tempo continues unobtrusively. After the 1921 Moplah riot of Malabar, the British Indian Government issued license to Arya Samaj to reconvert those forced to abdicate Hindu Dharma and willing to return to their poorva-dharma. The status of this license is still in force. Since then, thousands have returned to their original faith. Every State's gazettes since 1947 will prove the tempo of ghar vapasi in the Republic of India."
So, there is nothing new in this except that some section of people are keen on proving that ghar wapasi as a movement received a fillip with the Modi government having come to power. So, the writer concludes:
· This aspect was visible during the third and last phase of campaigning for the Delhi Assembly poll earlier this year, when a small demonstration of Christians received disproportionate publicity as a signal to all members of the community to vote against the Bharatiya Janata Party. Since then, the religious and secular leaders of various Christian denominations have successfully put the community at the centre of an anti-BJP fledgling movement, the full dimensions and objectives of which are yet to unravel.
So, friends, this low level politicking, better described in jhuggiwala terminology "jhagra", will continue.
Interestingly, in between some one raised an ticklish issue: do not the present-day Christian friends in India feel proud about belonging to India and being among the inheritors of the age-old Indic civilisation? Are they not proud of belonging to the land of Swami Vivekananda or being his descendants? If they do and we are sure some of them do so, the present day Christian friends themselves should actually try to ascertain their predecessors and come back home by going through the formal process of 'suddhikaran' or otherwise, suo moto.
It would be worth recalling here that many eminent leaders from countries in the West where Indians had gone or taken as indentured labour, at times visit India in search of their ancestral homes and predecessors. They have feelings of attachment and feel proud that had belonged to India.
On the same analogy, would not the Indian Christians, who stand converted only a couple of generations ago, try to find out about their forefathers? Following this logic, ghar wapasi for them ought indeed to be a logical and voluntary affair only.
Well,we will not like to offer any comment on this except that there seems to be something in this suggestion to think over. In any case, as the writer of the mail has rightly said all this amounts to nothing but "politics of ghar wapasi".
Friends, we, the members of the majority community, do not almost by habit wish to hurt any one's sentiments and so we leave the issue here as it is.
Vandemataram,
Your sevak,
D.C. Nath
(Former Spl. Director, IB)
(President, Patriots' Forum)
Source: Patriot Forum
Disclaimer: The opinions expressed within this article /news /published content are the personal opinions of the submitting author / organization. World Hindu News  is not responsible for the accuracy, completeness, suitability, or validity of any information on this article /news/published content. All information  received is provided on an as-is basis. The information, facts or opinions appearing in the article / news /published content do not reflect the views of World Hindu News and World Hindu News does not assume any responsibility or liability for the same.