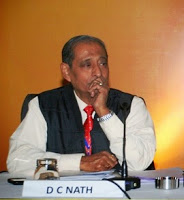 President of Patriots Forum, D.C. Nath was superannuated in January, 1995, as the Special Director, Intelligence Bureau, D.C. Nath (IPS-1960) was associated with the International Institute of Security and Safety Management (IISSM), headquartered in New Delhi, for over 14 years, first as the Executive President & CEO and then as the President & Director General, between February, 1997 and March, 2011. The author of a highly acclaimed book, Intelligence Imperatives for India, Mr. Nath earned high plaudits from all around for two of his very significant presentations on: "Revisiting the Future of India" (2005, London) and "Lessons from India for the War On Terrorism" (2007, USA). He is the only one in the field, combining the experiences of a police officer with specialization in intelligence and strategic analysis and an industrial security expert par excellence. More Bio on D. C. Nath…
News Research & Analysis Files-
HOMEGROWN TERROR THREAT-The Pioneer << News analysis file 1
OPINION>>>>
April 2, 2015
Dear Friends,
Subject: Homegrown Terror Threat
You and we are all aware of the ramifications of the Burdwan case of October 2, 2014. The National Investigation Agency of the Centre had taken up the investigation and have now filed the chargesheet. We have been pleasantly surprised that one of the leading dailies of the capital, namely, "The Pioneer" has come out with an editorial, (copy attached) analysing the overall situation, as revealed during the investigation with the heading, "Homegrown Terror Threat."
Some interesting points from it:
· The fact that, of the 21 individuals named by NIA, 17 are Indian citizens, shows that the JMB's network in this country has been flourishing. This is possibly the first time in recent history that Indian nationals have been suspected of engaging in jihadi activities against a foreign Government.
· The National Investigation Agency's assertion, in its chargesheet filed in the Burdwan case on Monday, that the Jamaat-ul-Mujahideen Bangladesh is using Indian territory and Indian citizens to topple the Government in Dhaka, adds credibility to suspicions that had emerged in the aftermath of the blast last year.
· In its chargesheet, the NIA states that, in order to realise its vision of establishing a Shariat state in Bangladesh (and possibly parts of West Bengal), the JMB had been targeting, radicalising, recruiting and training youngsters in West Bengal, Assam and Jharkhand.
Then the editorial concludes:
· Another area of concern is the role of Pakistan and its Inter-Services Intelligence agency. The NIA believes that the JMB receives support, particularly financial help, from the Pak ISI. If true, this fits in perfectly with Pakistan's tried and tested gameplan of using proxy groups to destabilise India — and, in this case, Bangladesh. Thankfully, Indian and Bangladeshi authorities are putting up a strong joint effort to fight the scourge of terror.
Friends, we would suggest you could kindly spread this information as widely as possible so that the countrymen are put wise on the subject, which is of utmost concern to national security and safety.
Vandemataram,
Your sevak,
D.C. Nath
(Former Spl. Director, IB)
(President, Patriots' Forum)
Source: Patriot Forum
Disclaimer: The opinions expressed within this article /news /published content are the personal opinions of the submitting author / organization. World Hindu News  is not responsible for the accuracy, completeness, suitability, or validity of any information on this article /news/published content. All information  received is provided on an as-is basis. The information, facts or opinions appearing in the article / news /published content do not reflect the views of World Hindu News and World Hindu News does not assume any responsibility or liability for the same.