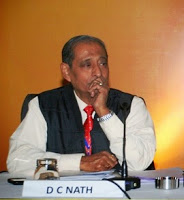 President of Patriots Forum, D.C. Nath was superannuated in January, 1995, as the Special Director, Intelligence Bureau, D.C. Nath (IPS-1960) was associated with the International Institute of Security and Safety Management (IISSM), headquartered in New Delhi, for over 14 years, first as the Executive President & CEO and then as the President & Director General, between February, 1997 and March, 2011. The author of a highly acclaimed book, Intelligence Imperatives for India, Mr. Nath earned high plaudits from all around for two of his very significant presentations on: "Revisiting the Future of India" (2005, London) and "Lessons from India for the War On Terrorism" (2007, USA). He is the only one in the field, combining the experiences of a police officer with specialization in intelligence and strategic analysis and an industrial security expert par excellence. More Bio on D. C. Nath…
December 12, 2014
To
Shri Rajnath Singh,
The Union Home Minister,
New Delhi.
Manyabar Griha Mantri Rajnath Singhji,
Subject: How Much Is Enough For The Minority Community?
We are before you with a simple question: How much is enough for appeasing the so-called minority community (the Muslim brothers)? We have been forced to raise this issue after seeing a front page report in "The Asian Age" of December 11, with the caption, "Govt Draws Up 15-Point Plan To Help Minorities".
This report mentions of governments' efforts to extend help to modernise the Ialamic Madrassas. Sir, you would be aware the Muslim leadership had in the past refused to accept any help from the government for this—both from the UPA and the present NDA government. We also separately read in this context in day before yesterday's press that Islamist terrorism was taught in three Madrassas-in the context of the Burdwan blast (October 2, 2014).
Sir, you are aware the Muslim brothers in India are in many respects the most pampered and privileged lot any where in the world. As a matter of fact, even the myth created by the virtually untruthful and motivated report of the unconstitutionally formed Sachar Committee has also since been busted.
On top of that, when that report was under legal challenge in the Delhi High Court (and now in the Supreme Court)! the last UPA government had in 2013 constituted a post Sachar Evaluation Committee under Prof. Amitabh Kundu. That Committee could not complete its report in time. Your government granted it an extension and the final report of that Kundu Committee has been received in July this year.
Though the final recommendations of the Kundu Committee have not come in the public domain, press reports suggest the Kundu Committe found lack of development and insufficient exposure (of the minority community) to the amenities available.
Mananiya Griha Mantriji, your goodself will be duly aware how undue benefits have been doled out to the minority communities already generally and also under so many highly discriminatory schemes/scholarships in favour of the minority students when much more deserving and poorer Hindus, especially in the villages, are denied these benefits. Sir, you would be aware two scholars, namely, Shri J P Sharma and Shri R K Ohri, have in their unique research publication, "The Majority Report", have exposed these details with case studies.
While we all hoped the newly elected popular government would at least scrap those discriminatory measures in favour of the majority community, nothing of that sort is in view. Friends, with soft corners for the present government, are now coming out openly with grievances against the government. Only one such note clearly touching on this aspect is attached for information. There are others with us.
Sir, in reality, the Muslim friends in India are being treated, obviously on political considerations, as sons-in-law of the country. We have challenged many to find one single Muslim friend willing to go to any Muslim country in the Middle East. We have no takers yet.
May we, therefore, Sir, urge you to look into this growing disenchantment among even nationalist members of the majority community and cause some remedial measures as early as possible? The majority community's trust & faith on the present government will have to be retained and growing disillusion and feeling of being let down quickly stopped. Our submission is: the situation must not be allowed to go out of control.
Begging to be excused for this blunt but honest submission. Kindly forgive if we have sounded harsh, being emotionally moved. We also apologise for sudden intrusion into your busy schedule and with kind regards,
Vandemataram,
Yours sincerely,
D.C. Nath
(Former Spl. Director, IB)
(President, Patriots' Forum)
9811995693
Attachment (1)
Budget 2014 continues UPA's harmful policies
Copy with copy of attachment to:
1. The PMO.
2. The Union Home Secretary.
3. The National Security Advisor
For favour of action as thought appropriate.
D.C. Nath
Source: Patriot Forum
Disclaimer: The opinions expressed within this article /news /published content are the personal opinions of the submitting author / organization. World Hindu News  is not responsible for the accuracy, completeness, suitability, or validity of any information on this article /news/published content. All information  received is provided on an as-is basis. The information, facts or opinions appearing in the article / news /published content do not reflect the views of World Hindu News and World Hindu News does not assume any responsibility or liability for the same.​