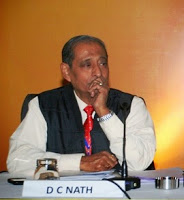 President of Patriots Forum, D.C. Nath was superannuated in January, 1995, as the Special Director, Intelligence Bureau, D.C. Nath (IPS-1960) was associated with the International Institute of Security and Safety Management (IISSM), headquartered in New Delhi, for over 14 years, first as the Executive President & CEO and then as the President & Director General, between February, 1997 and March, 2011. The author of a highly acclaimed book, Intelligence Imperatives for India, Mr. Nath earned high plaudits from all around for two of his very significant presentations on: "Revisiting the Future of India" (2005, London) and "Lessons from India for the War On Terrorism" (2007, USA). He is the only one in the field, combining the experiences of a police officer with specialization in intelligence and strategic analysis and an industrial security expert par excellence. More Bio on D. C. Nath…
OPINION>>>>
September 16, 2015
To
The Editor,
The Times Of India,
New Delhi.
Dear Sir,
Subject: Mr. Justice (retd.) Markandey Katju And His Apparent "Hallucination" Or Deliberate Move?
We happen to read the brief news item, "Now, Katju Calls Bose "Japanese Agent" And Tagore "British Stooge" on p. 9 of the New Delhi edition of your esteemed daily. This is, as mentioned in the news item, based on a series of tweets by the honourable Mr. Justice Markandey Katju. The matter has, thereafter, been doing rounds on the internet also, as possibly intended.
Here is the report:
Quote (.)
Now, Katju calls Bose 'Japanese agent', Tagore 'British stooge'
TNN | Sep 15, 2015, 01.15 AM IST
http://timesofindia.indiatimes.com/india/Now-Katju-calls-Bose-Japanese-agent-Tagore-British-stooge/articleshow/48963085.cms
Former Supreme Court judge Justice Markandey Katju
NEW DELHI: In a series of tweets on Monday, controversy-courting former Supreme Court judge Justice Markandey Katju described Subhas Chandra Bose as a "Japanese agent" and used the epithet "British stooge" for Rabindranath Tagore.
"I am soon coming to Kolkata where I will give a speech with a scathing att-ack on that British stooge Tagore and that Japanese agent Subhas Chandra Bose in a talk in some University or institution. That will be throwing a stone in a beehive, and send many Bengalis swarming like hornets for my blood. But they must know the truth. For too long they have been taken for a ride," read his complete message.
In a Saturday post on his blog, Satyam Bruyat, Katju wrote, "In my opinion Bose was a highly ambitious person, and he became a Japanese agent because neither Gandhi nor Hitler had given him any 'bhaav'."
Unquote (.)
Since the learned Justice Katju enjoys the fundamental right of freedom of speech, as any other Indian, he can of course say whatever he wants to say.
But, we have a questions to raise:
· Is Mr. Justice Katju not aware that both "Bose", a highly derogatory manner of referring to Netaji Subhas Chandra Bose, and Tagore (we suppose he referred to Rabindranath Tagore), although Bengali by birth, are internationally more known as Indians, whose place in history he has questioned.
· Why is his apprehension that when he would mention these charges, originally made by the erstwhile communists, in Kolkata, the Bengalis would run for his blood? It, by implication, suggests a guilty mind. Well, he might even be lynched to death any where in India if he would make any public utterance of such utter falsehood against two of the tallest men in Indian, nay, world history.
· While he had the entire electronic world before him making these accusations, why did he not quote the authority or the sources of his information (should we put in the computer language, 'garbage'?).
To you, the learned Editor, Sir, would you have picked up this 'garbage' if any other less knowledgeable personality than Justice Katju had aired such views and put that in your daily? Are you thus not thus guilty of misleading your esteemed readers?
We would have indeed ignored this news item put in an insignificant corner of a page of your daily but we felt it to be a national duty to correct this misguided propaganda revived after decades. We also felt publishing our rebuttal in your journal would let your readers know the truth as also undo the mischief originally caused by publishing this news at all.
We would also request you to kindly convey to the learned judge that he could, for the purpose of propagating his views, engage himself with some eminent students of history. That would help him earn the respect that a former judge of the Apex court in the country normally enjoys.
Thanking you and with regards,
Yours sincerely,
D.C. Nath
(Former Spl. Director, IB)
(President, Patriots' Forum)
Copy to:
· The Minister for HRD Ministry
(Smt. Smriti Zubin Irani)
· The National Security Advisor,
(Shri A K Doval)
Yours sincerely,
D.C. Nath
(Former Spl. Director, IB)
(President, Patriots' Forum)
Source: Patriot Forum
Disclaimer: The opinions expressed within this article /news /published content are the personal opinions of the submitting author / organization. World Hindu News  is not responsible for the accuracy, completeness, suitability, or validity of any information on this article /news/published content. All information  received is provided on an as-is basis. The information, facts or opinions appearing in the article / news /published content do not reflect the views of World Hindu News and World Hindu News does not assume any responsibility or liability for the same.