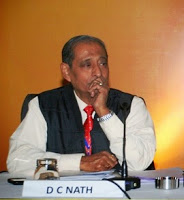 President of Patriots Forum, D.C. Nath was superannuated in January, 1995, as the Special Director, Intelligence Bureau, D.C. Nath (IPS-1960) was associated with the International Institute of Security and Safety Management (IISSM), headquartered in New Delhi, for over 14 years, first as the Executive President & CEO and then as the President & Director General, between February, 1997 and March, 2011. The author of a highly acclaimed book, Intelligence Imperatives for India, Mr. Nath earned high plaudits from all around for two of his very significant presentations on: "Revisiting the Future of India" (2005, London) and "Lessons from India for the War On Terrorism" (2007, USA). He is the only one in the field, combining the experiences of a police officer with specialization in intelligence and strategic analysis and an industrial security expert par excellence. More Bio on D. C. Nath…
OPINION>>>>
Attention: To Shri Narendra Modi
July 27, 2015
To
The Honourable Prime Minister,
(Shri Narendra Modi)
India.
Manyabar Pradhan Mantriji,
Subject: To Your Attention, Mr. Prime Minister, Sir.
We beg to bring the following to your urgent notice. It so happened some like-minded friends, who wish you to succeed in overall national interest, had got together, broke our heads and then decided that the best way would be to address the issues before you. Mahoday, it is possible we are not correct in all that we are submitting to you and you might not also like to be told in this manner but we are here to submit to you what we feel must be brought to your notice.
It is true that your foreign policy so far has been a stunning success. India is now recognised as a world power, a recognition that has come to us after many, many years, giving rise to the hope what Swami Vivekananda had years ago had "predicted": "The Mother India will again rise to the top of the comity of nations".
Pradhan Mantri Mahoday, we have had also the occasion of seeing what the learned political analyst and commentator Dr. Gurumurthy has written on the practical achievements of the present NDA government on completion of one year in the office. That assessment makes one feel we are on the right tract. But, Sir, we have a list of issues that, we strongly and honestly feel, deserves to be taken up without further delay.
Mahoday, without trying to placate you whatsoever, let us accept that the electoral victory in 2014 was not BJP's. It was won on "Modi Magic". But the crude reality is despite success on many fronts, the Modi effect has worn off substantially. Pretty strong voices of hurt, disappointment and even of disaffection, are being heard even from your diehard supporters. These are no longer mute and are loud enough to be take note of.
Requesting you to believe we are not communal whatsoever, the first and primary reason for this is: NDA government continuing to pursuing the minority (read the Muslims) appeasement policy with more vigour and exploring newer areas for that. Pradhan Mantri Mahoday, we have written to you on this aspect specifically. Your minister for Minority Affairs, as it is an unconstitutional post, feels that more needed to done for the Muslims because they have been neglected in the past. A BLATANT UNTRUTH. The days will not be far away when, we apprehend, the Hindus will not be able to accept such grossly wrong statements any more. The backlash from them, when they are with their backs to the wall, will come sooner than anticipated.
Simultaneously, we have reported the process of Islamisation of West Bengal and that the 8 per cent of Muslim population in the newly created State of Telengana is forcing the government to go West Bengal- way. The State of Kerala is already Islamised and going to be the next Kashmir. All these have been reported. Does the NDA government or the RSS/VHP have no action to take? If Hindus will protest, the secularists will start shouting.
Additionally, an impression has been gaining ground that the Maulanas can get things done from you more easily, where as the grievances of the poor tribals and Harijans (BCs) and poorer groups of Hindus, especially in the villages, go by default, leading many of them going over to either Islamic Madrassas or to Christian Fathers.
Considering the conditions of the number of people in the BPL category, some well thought out and implementable programme for the poverty alleviation we have to be designed.
The matter of controlling the Maoist violence, longer an ideology-driven outfit, is also going by default. Let the Centre take the decision/initiative to give "political clearanace" to the police and, where required, give them little air support. The problem will come to end sooner than expected.
Mahoday, cannot you help the long pending and overdue police reforms that an eminent police officer Shri Prakash Singh has been fighting single-handedly? Even the Supreme Court does not look very much enthusiastic about this.
The NDA government has not so far made any noticeable dent on control of corruption, one of the primary agendas on which 2014 elections were fought. The process of digitisation, so rightly initiated at least in all governmental transactions, will reduce the scope of corruption substantially and has as such will have to pursued doggedly.
No action is visible on the ground on your electoral assurances on tackling illegal Muslim migration from Bangladesh. Now that on the initiative of a Supreme Court lawyer from Assam, the Apex Court has directed both the Centre and the State of Assam to complete the process of identification of illegal immigrants within a period of two months, can we expect any action on the ground? Or, will this be another case of SC orders being ignored and buried in the files of the Ministry of Home Affairs?
Special attention is certainly called for job opportunities to the talented youth, especially because with fast-moving technological advances, job opportunity for them is shrinking.
The matter of women empowerment may also to be duly worked out and publicisd. After all, they constitute about 50per cent of the population. And, their full participation in all walks of administration is must. It is not for nothing that Swami Vivekananda, who, we learn, is your real guru, has extolled the virtues of mothers in all walks of life.
Pradhan Mantri Mahoday, all that we have submitted before you may look like a kind of a charge-sheet on your government. That is far from our intention. As we have stated in the beginning, things in the administration will move in the right direction and with the speed required, only if your goodself issues the necessary instructions and some monitoring cell is set up, may be in the PMO or independent of the PMO. The latter seems to be better option.
We are confident our hopes will be fulfilled. Given the right kind of conviction, any goal can certainly be reached.
Pradhan Mantri Mahoday, you take this occasion to make totally unrelated submission. People will remember you if you could consider and implement the following two measures, at the cost of incurring the wrath of your fellow MPs:
a) Please stop this MPLAD grant, introduced by Shiv Raj Patil. This is a definite breeding ground for official corruption. MPs will curse you but you will go down in history, in peoples' mind, as a path breaker. The financial crisis being faced by the Centre in OROP case would be a noble cause for this step.
b) Kindly stop the virtual free food for the MPs in Parliament Canteen. Sir, it is indeed a sad commentary that the MPs enjoy such unmerited privilege, when men and women in their constituencies are dying of hunger in numbers. Do not such honourable leaders of the people develop or suffer from a deep sense of shame on this account?
With kind regards,
Yours sincerely,
D.C. Nath
(Former Spl. Director, IB)
(President, Patriots' Forum)
9811995693
Copy to:
· The Union Home Minister,
(Shri Rajnath Singh)
· The Defence Minister
Shri Manohar Parrikar
· The Union Home Secretary
(Shri L.C. Goyal)
· Cabinet Secretary
Shri Pradeep Kumar Sinha
· The Prime Minister's Office
(Shri P.K. Mishra)
· The National Security Advisor,
(Shri A K Doval)
Forwarded for action, as thought fit.
With kind regards,
Yours sincerely,
D.C. Nath
(Former Spl. Director, IB)
(President, Patriots' Forum)
9811995693
Copy to:
1) Shri Mohan Bhagwat,
Rashtriya Swayamsewak Sangh (RSS)
2) Dr. PravinTogadia,
Vishva Hindu Parishad (VHP)
With kind regards,
Yours sincerely,
D.C. Nath
(Former Spl. Director, IB)
(President, Patriots' Forum)
9811995693
Source: Patriot Forum
Disclaimer: The opinions expressed within this article /news /published content are the personal opinions of the submitting author / organization. World Hindu News  is not responsible for the accuracy, completeness, suitability, or validity of any information on this article /news/published content. All information  received is provided on an as-is basis. The information, facts or opinions appearing in the article / news /published content do not reflect the views of World Hindu News and World Hindu News does not assume any responsibility or liability for the same.