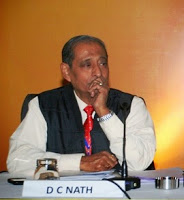 President of Patriots Forum, D.C. Nath was superannuated in January, 1995, as the Special Director, Intelligence Bureau, D.C. Nath (IPS-1960) was associated with the International Institute of Security and Safety Management (IISSM), headquartered in New Delhi, for over 14 years, first as the Executive President & CEO and then as the President & Director General, between February, 1997 and March, 2011. The author of a highly acclaimed book, Intelligence Imperatives for India, Mr. Nath earned high plaudits from all around for two of his very significant presentations on: "Revisiting the Future of India" (2005, London) and "Lessons from India for the War On Terrorism" (2007, USA). He is the only one in the field, combining the experiences of a police officer with specialization in intelligence and strategic analysis and an industrial security expert par excellence. More Bio on D. C. Nath…
OPINION>>>>
September 21, 2015
Dear Friends,
Subject: Urdu Press Review, September 1—15, 2015.
We are with the fortnightly review of the Urdu Press in India by the Delhi-based India Policy Foundation, the only agency to be doing this great service to nation's security.
First, the Summary:
Summary
Applaud and respect earned by India on successful organization of the International Yoga did not appear agreeable to the radical communal organizations. All India Muslim Personal Law Board started misguiding Muslim community that the Modi government was forcing Hindu religion and Vedic culture on minorities. Though, more unfortunate is the help being sought from mosques and imam to incite Muslims.
Delhi-based Urdu weekly Nai Duniya accepted the fact that self-styled Caliph Abu Baqar al Baghdadi and his organization Islamic State of Iraq and Syria have started spreading its tentacles in India. With the help of internet and social media, it is brainwashing innocent people. The newspaper expressed satisfaction that the government has prepared a comprehensive strategy to save Muslim youths from their grip. According to the newspaper, intelligence departments are keeping a close watch on the students of foreign origin especially in Indian educational institutions because it is indicated that some jihadi elements are trying to recruit them in their cadre. According to a news report from Hyderabad, Telengana police arrested one such gang that was sending youths to Iraq and Turkey on fake passports. The police suspected that they were associated with ISIS. Arrested people included citizens of Pakistan, Bangladesh and Myanmar. Interestingly, this gang included some policemen also. The police are investigating the matter very minutely.
AIMIM decided to field candidates for Bihar Assembly elections and AIMIM chief Asaduddin Owaisi recently visited several regions of the state. Muslims from the Congress openly opposed and instructed to keep away from this, else Mahagathbandhan (the grand alliance) will receive a severe jolt. What would be the outcome of this bickering among the Muslim leaders in the state, only time can tell?
A minister of Pakistan, made a sensational revelation that at the end of the previous year, a section of the Army was conspiring to coup against Nawaz Sharif. This conspiracy was foiled by the present General of the Army. Nawaz Sharif promoted Raheel Sharif out of turn neglecting three other officers after General Kayani retired. Widening differences between the Pakistan government and the Army are not good symptoms for that country.
Selected Contents
NATIONAL
I. AIMPLB to campaign against the RSS and the Government
II. Muslim leaders sabotaging plans of MIM
III. ISIS spreads its tentacles in India
WORLD
I. Coup attempted by the Army in Pakistan
II. Women get voting right in Saudi Arabia
III. Hajies banned
WEST ASIA
I. Egypt rejects peace talks
II. ISIS incites Turkish people to revolt against government
OTHERS
I. Islam to be taught in German schools
II. Clerics not to solemnize Nikah for people taking dowry
III. Pakistani goods are boycotted in Afghanistan
AIMPLD Campaign Against RSS and Govt:
· A joint press conference was addressed in Delhi by AIMPLB executive general secretary Wali Rahmani, Lingayat leader Kameshwar Vishwanathan and other Dalit leader Waman Maneshwaram, Christian leader Dr A C Michael and Rajratan Ambedkar. These leaders alleged that secular fabric of the country was in danger ever since saffron party came to power, the communal forces felt emboldened. Therefore AIMPLB has decided to start a campaign across the country along with other minorities and Dalits to save constitution and secularism with Deen Bachao, Sambidhan Bachao (save faith, save constitution) movement.
· Since the AIMPLB does not have any support base so it takes help of mosques and Imam. Executive general secretary of AIMPLB Maulana Wali Mohammad Rahmani requested imams of mosques to instigate Muslims against the Modi government and Sangh Pariwar after Friday prayer. It is a matter of concern to see that how far the board is able to connect with the common Muslim for this movement.
ISIS Tentacles In India:
Nai Duniya on August 24 claimed that due to internet, innocent Muslims were being thrown into terrorism by ISIS. With the help of social media, Muslim youths were being recruited in this jihadi organization. Jihadi organizations want to disintegrate India by throwing it into jihadi fire. Earlier, it was claimed that Indian Muslims did not have any interest in the activities of Jihadi organization but when several youths from Hyderabad and Mumbai reached foreign countries to participate in jihad, then intelligence agencies woke up from slumber.
Islam Taught In German Schools:
Hamara Samaj on August 16 reported that in German schools programme of Islamic education has been expanded. Provision for Islamic education has been made in every German school for Muslim boys and it is being taught as one of the subjects.
(Note: Germany's love for Islamic "Asylum Seekers", known to us otherwise, is corroborated here)
Well, our submission to all of you: we must continue to encourage and support this drive by the India Policy Foundation.
Vandemataram,
Your sevak,
D.C. Nath
(Former Spl. Director, IB)
(President, Patriots' Forum)
Copy to:
To
Smt. Smriti Zubin Irani,
The Minister for Human Resources Development,
Government of India,
New Delhi
We have been covering the Urdu Press in India for some months now—thanks to "The India Policy Foundation"
Madam, we strongly feel all State governments be appropriately advised from your Ministry to cover the Urdu Press compulsorily. This would be in over-all of national security interest.
With best regards,
Yours sincerely,
D.C. Nath
(Former Spl. Director, IB)
(President, Patriots' Forum)
Source: Patriot Forum
Disclaimer: The opinions expressed within this article /news /published content are the personal opinions of the submitting author / organization. World Hindu News  is not responsible for the accuracy, completeness, suitability, or validity of any information on this article /news/published content. All information  received is provided on an as-is basis. The information, facts or opinions appearing in the article / news /published content do not reflect the views of World Hindu News and World Hindu News does not assume any responsibility or liability for the same.