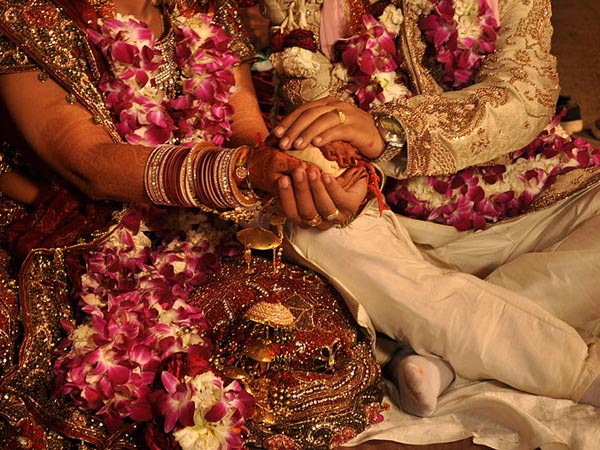 Sameer Arshad | TNN | Mar 19, 2016, 05.08 PM IST
Pakistani parliament's law and justice standing committee approved the much-delayed Hindu Marriage Bill last month, overcoming years of bureaucratic inertia. The legislation is now expected to sail through with ruling Pakistan Muslim League-Nawaz lawmakers Ramesh Kumar Vankwani and Chaudhry Mahmood Bashir Virk being its main protagonists.
The bill was virtually gathering dust since it was first proposed with the restoration of democracy in 2008. It picked up steam after Pakistan's top court ordered its approval within two weeks in January for immediate passage.
A few issues need to be sorted out to make the bill more effective. Vankwani achieved a major success in this regard when he managed to get support of the human rights panel of Pakistani Senate on February 17 regarding removal of a controversial clause in the bill. The provision says a marriage could be annulled if a spouse converts. Vakwani told the panel the clause could lead to forceful conversion of married women, which remains a major Hindu concern in Pakistan.
Senator Farhatullah Babar of the Pakistan People's Party (PPP), which rules Sindh where 90% of Pakistani Hindus live, backed Vankwani in annulling the clause calling it "a grave rights violation". The panel's chairperson, Nasreen Jalil, who belongs to Sindh-based Muttahida Qaumi Movement, called the clause repugnant.
The panel's backing is expected to fast-track the legislation that would make it mandatory for Hindu couples to register their marriages. It would address issues like difficulty in transferring properties and getting travel as well as identity documents, which require proof of marital status. In the absence of legislation, widows are often deprived the properties of their husbands. The bill makes opening bank accounts and obtaining visas easier too. It would allow a wife claim alimony and custody of children if her husband leaves her and check child marriages, which are common in Sindh bordering Rajasthan.
Experts are worried about the Hindu community's opposition to the divorce clause in the bill saying there is no such concept in Hinduism. They say it could hurt the effectiveness of the legislation and reeks of patriarchy. Sindh, where the Hindu vote is crucial, consequently has done away with the provision of divorce in its law on Hindu marriages. Experts have called for replication of legal provisions in India related to divorce and inheritance of property for daughters that overcame pressures from Hindu conservatives.
The urgency related to the bill has coincided with a resolution passed in Pakistani parliament on March 8 to declare Diwali and Holi as public holidays. Vankwani moved the resolution saying such holidays were essential for Pakistan's "good image".
Earlier in November, Prime Minister Nawaz Sharif flew to Karachi to take part in a Diwali function, where Gayatri Mantra was recited along with the Quran. He told Hindus he would support them even if their oppressors are Muslims while underlining he is their prime minister too. Sharif's rival, Imran Khan, promised equal citizenship for minorities at a rally in Hindu-dominated Umerkot amid fireworks a day after Diwali. PPP chief Bilawal Bhutto Zardari joined the Hindus for Diwali festivities in Hindu-dominated Mithi in Tharparkar. He cut a cake and enjoyed dandia performance.
Many credit steady democratization for the minority outreach besides the importance of Hindu votes in Sindh, where the community is concentrated in Umerkot (49%), Tharparkar (46%) and Mirpurkhas (33%). The Hindu population varies from 8-19% elsewhere in Sindh.
Political expediency aside, many believe the outreach is genuine as part of the anti-extremism efforts. It dovetails with the anti-terror National Action Plan formulated after the Peshawar school massacre in December 2014 that includes a pledge to "stop religious extremism and protect minorities"