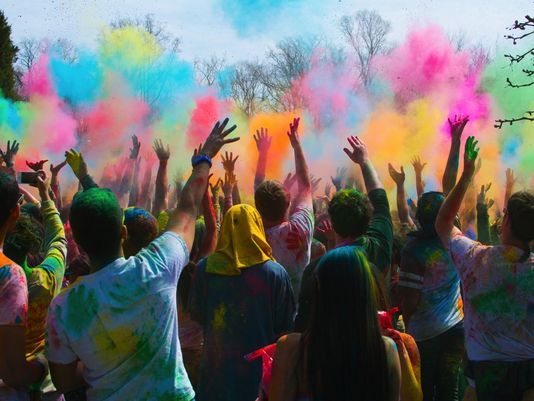 On 1st March, 2018 Holi event organized for Senior citizens with the efforts of Vedic Youth Society and Pakistan Hindu Seva Welfare Trust at Darul Sukun senior citizen home Karachi. The total numbers of participants were more than 100 people with different faiths and religions.
The purpose for organizing Holi festival event at Darul Sukun Senior Citizens Home to share the love with our elderly people who belong to every religion also promote cultural exchange and religious interfaith harmony among all communities. On this beautiful occasion elderly brings inner smile that was lost for many years.
Dr. Vinesh Arya Yoga master PHS said that our mission is one world one family and Holi like events are resources to connect different communities in one platform.
President Sanjesh Dhanja Pakistan Hindu Seva said on Holi festival that every person forget everything about religion and people waits for this day, every person is full with colors and people really enjoyed every moment on this day.
Miss Anna Danial General Manager Darul Sukun senior home showed great dedication on this day and she said in our Darul Sukun Home we celebrate all events that can make elderly happy and excited, these events can play positive role to deal with elderly people depression.
Attachment:
On 1st March, 2018 In history of Pakistan at Sindh Assembly building all members celebrated HOLI with colors and cake cutting ceremony by President PPP Sindh Nisar Khoro, President PPP Minority Wing Dr. Lalchand Ukrani and  Dr . Rakesh Kumar PPP-MW Sindh and opposition leader Nusrat Sehar was presented.
On the same day Sindh government has announced a holiday for all of its Hindu employees today on the occasion of the Holi festival. The chief secretary announced the holiday for the community in a notification issued on Thursday.
As per the notification, Hindu employees in all offices of the Sindh government as well as all autonomous, semi-autonomous bodies, corporations, and local councils under the administrative control of the government would have the day off to celebrate the festival.
Parliamentarians with their minority colleagues celebrated Holi in a traditional fashion. "We are feeling great and this sends the message that there are no differences," said MPA Mukesh Chawala.
His sentiments were echoed by other lawmakers who emphasised the importance of celebrating together. Leaders of various political parties also wised the Hindu community on their religious festival.
On Wednesday, Pakistan Peoples Party Chairman Bilawal Bhutto Zardari had extended heartiest greetings to Hindu community on the eve of Holi festival. In his message, he had said that his party stood for equal rights and opportunities for the non-Muslim citizens of Pakistan.
He stated that the PPP was the true torch-bearer of the ideology of our founding father, Quaid-e-Azam Mohammad Ali Jinnah, for an egalitarian society. Bilawal pointed out that the PPP had provided constitutional guarantees to the rights for the non-Muslim Pakistanis and gave unprecedented representation in the parliament and party organisations. The PPP chairman said that every Pakistani was free to celebrate and perform his or her religious ceremonies and festivals in a secure environment.
Pictures are from every corner of Pakistan Hindu Communities living from KPK, SINDH, BALOCHISTAN, PUNJAB and KARACHI
Source: World Hindu News (WHN)