Seek shifting of Hindu employees from Kashmir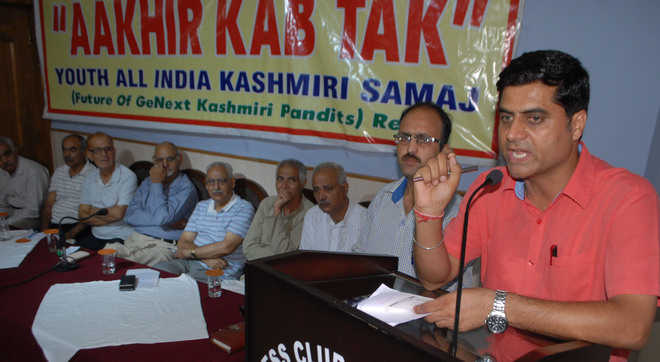 Sumit Hakhoo
Tribune News Service
Jammu, July 13
Displaced Pandits today observed 'black day', marking 85 years since the riots in Kashmir which saw large-scale burning and looting of property belonging to members of the minority community.Although July 13 is officially observed as Martyrs' Day in Jammu and Kashmir, displaced Hindus organise functions and protests to remember victims of the violence which erupted in 1931 following the killing of 21 demonstrators by forces of the then Dogra ruler, Maharaja Hari Singh.
While historians in the Valley consider it as the first mass awakening against Dogra rule, Pandits have been observing it as 'black day' since 1932 following communal riots which accompanied the protests.The All State Kashmiri Pandit Conference (ASKPC) organised a programme today and stated that it was the first organised attempt to drive away Hindus from the Valley.
"Hindus, including Dogras, were subjected to violence and many houses and shops burnt across the Valley. Nothing has changed since and the minorities remain on the edge," said Ravinder Raina, president of the ASKPC.The incident of July 13, 1931, revolves around Abdul Qadeer, the cook with a British officer who delivered a fiery speech against Maharaja Hari Singh.Abdul Qadeer was arrested and put on trial for sedition, but his trial was shifted to the Srinagar Central Jail. However, people tried to storm the jail, leading to death of protesters.
"After the incident, there was rioting in several areas and property belonging to minority community burnt. The minorities continued to face the brunt," said Ashwani Chrangoo, president of Panun Kashmir.Meanwhile, the Youth All India Kashmiri Samaj (YAIKS) demanded that Pandit employees posted in the Valley be allowed to shift to Jammu till the situation returned to normal."After the recent incidents of stone-throwing at Haal, Vessu and other areas, employees have been living in fear. The government should shift them to Jammu till peace is restored in Kashmir," said RK Bhat, president of the YAIKS.