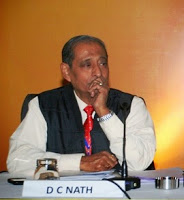 President of Patriots Forum, D.C. Nath was superannuated in January, 1995, as the Special Director, Intelligence Bureau, D.C. Nath (IPS-1960) was associated with the International Institute of Security and Safety Management (IISSM), headquartered in New Delhi, for over 14 years, first as the Executive President & CEO and then as the President & Director General, between February, 1997 and March, 2011. The author of a highly acclaimed book, Intelligence Imperatives for India, Mr. Nath earned high plaudits from all around for two of his very significant presentations on: "Revisiting the Future of India" (2005, London) and "Lessons from India for the War On Terrorism" (2007, USA). He is the only one in the field, combining the experiences of a police officer with specialization in intelligence and strategic analysis and an industrial security expert par excellence. More Bio on D. C. Nath…
OPINION>>>>
Press Brief
The PATRIOTS' FORUM, a Delhi-based "Think Tank", has brought out an authentic version of a monograph on the much–debated subject of "LOVE JEHAD" with historical background. The monograph has been necessitated because of the confusion created by vested interests as if the issue of 'love jihad' was or is non-existent. Some so-called scholars and "public personalities" have been brought in to write on inter-faith marriages between public figures to deny the problem of 'Love Jihad'. Such inter-faith marriages have been there since ages and are examples of catholicity of the Indian culture. To deny the existence of "love jihad" on that account is to mislead the general public. The Patriots' Forum had, therefore, decided to clarify the issue publicly and hence this monograph.
The monograph has been authored by the renowned scholar of Islamic studies, Shri Ram Kumar Ohri, whose first book on "Long March of Islam" has been proving prophetic.
It is a private publication of the Patriots' Forum. It is available only from the office of the Forum at House No.138/9, Kishan Garh, Vasant Kunj, New Delhi—110029. Tel. Nos—011-26139435/36.
A donation of Rs. 20/ (Rupees Twenty only per copy) is requested. Bulk order is preferred and welcome.
D.C. Nath
(President, Patriots' Forum)
(Former Spl. Director, IB)
November 15, 2014
Dear Friends,
Subject: Mode OF Payment For PF Publication On "Love Jihad".
We are happy to let you know there has been, as expected by us, a surge of demand for this publication, both inside the country and from outside as well.
Those from outside may like to send the payment in INR only through someone based in India.
Others could deposit/transfer the payment in the PF account, the particulars of which are as below:
Name of Bank – ALLAHABAD BANK
Address of Bank – Adchini New Delhi-110017
Bank A/c No. – 20207615671
IFSC No. – IFSC: ALLA0210835
Pan No. is: AABTP5010C
Vandemataram,
Your sevak,
D.C. Nath
(Former Spl. Director, IB)
(President, Patriots' Forum)
Source: Patriot Forum
Disclaimer: The opinions expressed within this article /news /published content are the personal opinions of the submitting author / organization. World Hindu News  is not responsible for the accuracy, completeness, suitability, or validity of any information on this article /news/published content. All information  received is provided on an as-is basis. The information, facts or opinions appearing in the article / news /published content do not reflect the views of World Hindu News and World Hindu News does not assume any responsibility or liability for the same.​