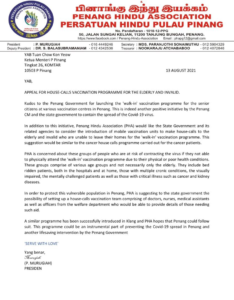 Kudos to the Penang Government for launching the 'walk-in' vaccination programme for the senior citizens at various vaccination centres in Penang. This is indeed another positive initiative by the Penang CM and the state government to contain the spread of the Covid-19 virus.
In addition to this initiative, Penang Hindu Association (PHA) would like the State Government and its related agencies to consider the introduction of mobile vaccination units to make house-calls to the elderly and invalid who are unable to leave their homes for the 'walk-in' vaccination programme. This suggestion would be similar to the cancer house calls programme carried out for the cancer patients.
PHA is concerned about these groups of people who are at risk of contracting the virus if they not able to physically attend the 'walk-in' vaccination programme due to their physical or poor health conditions. These groups comprise of various age groups and not necessarily only the elderly. They include bed ridden patients, both in the hospitals and at home, those with multiple cronic conditions, the visually impaired, the mentally challenged patients as well as those with critical illness such as cancer and kidney diseases.
In order to protect this vulnerable population in Penang, PHA is suggesting to the state government the possibility of setting up a house-calls vaccination team comprising of doctors, nurses, medical assistants as well as officers from the welfare department who would be able to provide details of those needing such aid.
A similar programme has been successfully introduced in Klang and PHA hopes that Penang could follow suit. This programme could be an instrumental part of preventing the Covid-19 spread in Penang and another lifesaving intervention by the Penang Government.
---
Source: World Hindu News