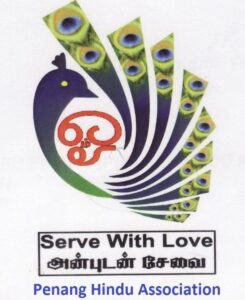 Honourable Penang Chief Minister graces the Cultural Workshops in the Garden Event.
In conjunction with the 2022 George Town Heritage Celebrations, the Cultural Workshops in the Garden event was held at the Armenian Park on the 7th of July. Penang Hindu Association was honoured to be invited again to set up an exhibition and workshop booth to showcase traditional Indian culture, which has become part and parcel of Penang's heritage.
It was indeed a double honour for PHA when the Honourable Chief Minister of Penang visited our booth and participated in all the workshops. Prior to this, the Hon. Chief Minister lighted up the kuthu vilaku, which is the traditional Indian oil lamp, as a symbolic gesture done to start an important event.
PHA showcased three traditional decorations during this event. First was the decoration using the Marthani or Henna, which is an art of body decoration, akin to a temporary tattoo.  Next was the art of weaving the thoraman, which is a hanging decoration using young coconut leaves. These are usually hung outdoors to attract positive energy. The third decoration showcased by PHA during this event was the renowned kolam, also known as rangoli, which is a floor decoration using coloured rice, dried dessicated coconut or rice floor in the powder or paste form. The Honourable Chief Minister was given a brief background of these traditional decorations by the staff manning the booths. The workshop stations prepared for all these three types of decorations saw an almost never ending flow of participants actively involved in the hands-on sessions.
The display booths also received tremendous support from the public, both locals and foreigners, who were thrilled to learn about the traditional Indian cultures that has become rooted in the rich heritage of multi-cultural Malaysia. They were also intrigued to learn that these traditions, that dates back many centuries, are still practiced today.
For the opportunity given to participate in this event, Penang Hindu Association would like to thank the GTWHI organising Chairman and General Manager Dr.Ang Ming Chee and the Heritage team for all the support given to set up the booths.
PHA also extends its heartfelt gratitude and thanks to all the PHA management team as well as PHA members and volunteers for the splendid dedication shown to exhibit the display and to run the workshops tirelessly until closing time.
PHA hopes that such cultural displays and exhibitions of the various ethnic groups in Malaysia should be ongoing to promote and sustain the multi-ethnic identity of Malaysia. This unity in diversity can be showcased to the rest of the world that Malaysia is a nation with a rich multi-ethnic and multi-cultural heritage that co-exists in peace and harmony.