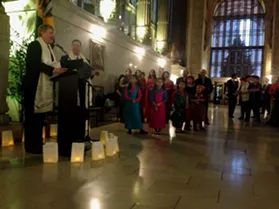 Photo courtesy of Ryan Deto

Allegheny County Executive Rich Fitzgerald and Pittsburgh Mayor Bill Peduto address crowd of residents celebrating Diwali in city-county building.
The city of Pittsburgh and Allegheny County formally recognized the the Hindu festival Diwali for the first time in their collective histories on Nov. 9.
Mayor Bill Peduto and County Executive Rich Fitzgerald together lit candles to honor the holiday's significance, which is celebrated in countries with substantial Hindu populations, most notably India.  "This celebration is long overdue," says Peduto. "The Indian population in our region has been growing since the '70s. It is far past time for us to recognize Diwali." The city-county building walls were washed in green lights and paper bags with small faux-candles circled the floor. The ceremony brought together all foreign-born groups who celebrate the Hindu festival of lights, including Bhutanese and Nepalese, who refer to the festival as Tihar. 
Ketaki Desai, who is of Indian descent and the president of a local analytics firm, says she was moved by Peduto's and Fitzgerald's acknowledgement and also by the crowd of 60 people in attendance, many dressed in traditional holiday garb. Diwali is held between mid-October and mid-November to coincide with the darkest, new moon night of the autumn Hindu month of Kartika. This year the festival is celebrated on Nov. 11. Lamps and candles are lit to signify the victory of good over evil. "We want to use our light to work together to create a better world and better region," said Desai while speaking to the crowd. According to census data, Asian Indians represent the largest foreign-born group in region, with more than 13,000 Indians spread throughout Allegheny County.
The area is also home to significant numbers of Nepalese and Bhutanese immigrants, both of whom congregate in neighborhoods in the South Hills. The ceremony was part of the mayor's Welcoming Pittsburgh initiative, meant to promote relationships between foreign-born groups and native-born residents, as well attracting new immigrant populations to the city.  Bibhuti Aryal is of Nepalese descent and president of the Rukmini Foundation, a nonprofit dedicated to shrinking the disparity of education between girls and boys. He says the Nepalese presence of his youth was far different than it is today.
"When I came here in 1989, me and my brother were the [Nepalese] immigrants," joked Aryal after the ceremony. "Now, I hear people speaking Nepalese while walking in Downtown." Aryal emceed the event and says he is happy to see the growing Indian, Nepalese and Bhutanese communities coming together to celebrate collaboratively. He recognizes these communities are steadily growing and each will eventually create a 'little Nepal or little India' community somewhere in the region, but he says he is happy to see them gathering in inter-cultural groups.  Peduto echoed this sentiment, saying that while each group came from different cultural backgrounds, they all can unite now that they are here in Pittsburgh. "I am so happy to see Indians, Bhutanese and Nepalese here in attendance, or as I like to call you, Pittsburghers," said Peduto during the ceremony.