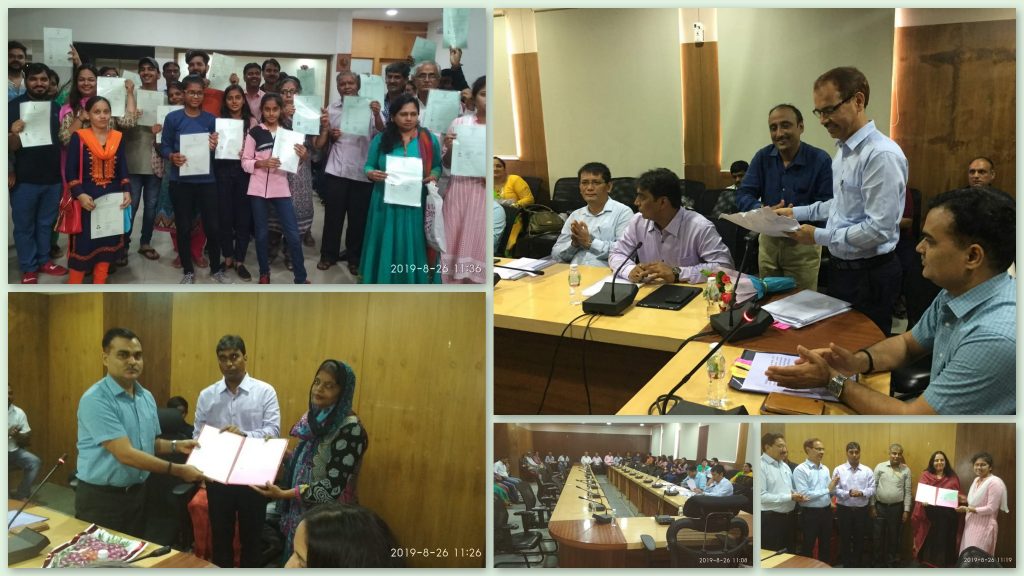 PRIME MINISTER s' GIFT TO HINDU MIGRANTS @ GUJARAT
INDIAN CITIZENSHIP
On tuesday (26.08.2019) there is hustle & bustle at circuit House Gandhinagar Gujarat. Families of migrant Hindus are coming . Elders, women & children all are present.
There is special occasion. All faces are smiling .Girls are busy in discussing their career plans. Parents talk with each other about colleges, educational courses , children weddings etc. Function is of distribution of Indian citizenship certificates to Hindu migrants from Pakistan.
They all got the Indian citizenship certificates from Honourable dignatries Shri B.C.Joshi Director (Citizenship) MHA New Delhi, Shri M.K.Jha Deputy Secretary MHA New Delhi , Shri Brajesh Kumar Jha Home Secretary Gujarat , Dr. Shri Vikrant Pandey Collector & DM Ahmedabad, Shri S.K.Langa Collector Gandhinagar , Smt. Remya Mohan Collector Kutch in the presence of Home deptt officials, Dist. Collectorate officials , Hindu migrants, their relatives & well wishers.
All migrant girls, women,& other family members told that Honourable Prime Minister Shri Narendrabhai Modi has given precious gift to them & their families on RAKSHABANDHAN , that is Indian Citizenship. They consider Honourable Prime Minister as their brother, who has given them safety, security, education, empowerment in India. With support & rehabilitation plan in India, many Hindu girls & women saved ,from the forced conversion in Pakistan & gave new dignified & blessed life in India.
46 applicants have been issued citizenship certificates by office of District Collector office Ahmedabad at Circuit House Gandhinagar. Honourable Collector told the large gathering of Hindu migrants that Gujarat Govt. is doing all needful for rehabilitation of pak Hindu migrants in Gujarat. Last year Gujarat Home Minister Shri Pradipsinh Jadeja has distributed the 184 c.c. to Hindu migrants. Respected Revenue Minister Shri Kaushikbhai Patel distributed letters & c.c. to 95 applicants in April 2018 at Tagore hall. 90 c.c. were issued by Honourable Collector Shri in June, 2018. District Collector office has already issued 580 citizenship certificates in total so far after power delegation.
Six sisters Mona, Lakita, Uljhan, Heena, Lubna & Rasna told that they are on seventh sky today.
With getting Indian citizenship , Heena told " we will be able to get Indian passports & will try for getting admission in good university abroad. In Pakistan, we were confined to homes & studied at home. We go to school only for exam. Here in India girls have all opportunity & equality for education."
Another migrant Shankarlal told that he migrated to India 12 years ago , when one tragedy happened to their family.Today he & his wife Lachhmi Bai got Indian citizenship .They are thankful to Honourable Prime Minister Shri Narendrabhai Modi. Now their son will submit citizenship application.
One elderly man Rano Maharaj informed that her daughter Radha has got Indian citizenship. He is relaxed today, now wedding of her daughter will take place. No groom come forward to marry girl with Pakistani citizenship .
Ahmedabad dist. is first & still no,1 in issue of Indian citizenship certificates to Hindu migrants in India , from the date of MHA notification of power delegation dt. 23.12.2016. Honourable Prime Minister Shri Narendrabhai Modi ji union cabinet decision of July, 2016 is being implemented in Gujarat with full enthusiasm.
Sindh Minority Migrants Association Secretary Rajesh Maheshwari & team has been representing the migrants issues with Gujarat Home deptt & Ministry of Home Affairs Govt. of India New Delhi. Honourable Ministers, M.Ps , have recommended to Govt. of India for early resolution of problems. Last year in April 2017, Honourable Joint Parliamentary Committee on Citizenship under chairmanship of Dr. Satya Pal Singh visited Ahmedabad . They held meetings with Hindu migrants in their localities Isanpur, sardarnagar & got first hand information. A Joint meeting of officials of MHA, MEA ,Law Ministry, Gujarat Home deptt.,FRRO Ahmedabad , Dist. Collectorate & representatives of Hindu migrants was held at circuit House Ahmedabad on 18th April, 2017 & discussed the issues.
Pak Hindu migrants resident of Gujarat are lucky that their voice is heard at PMO, MHA , CMO & Home deptt. Honourable Chief Minister of Gujarat Shri Vijaybhai Rupani ji & Minister of State of Home Shri Pradipsinh Jadeja has advised the concerned FRROs, DMs & Home deptt. officials to expedite the citizenship grant process to Hindu migrants in Gujarat. With concern & personal attention of Honourable Minister, there is no pending case of citizenship with Govt. Some files are pending due to non submission of documents from applicants.
SMMA Secretary Rajesh Maheshwari thanked Govt. of India for extending the power delegation for citizenship for more years till new order. Now maximum no. of Hindu migrants can get benefit. Following are some of the points for Citizenship section MHA consideration:-
1) More than 200 citizenship applications are pending for report from Central I.B. office. Applicants central I.B. inq. has been conducted in Aug. 2018 & thereafter. Clearance Reports has not come from citizenship section MHA since March 2019. No online clearance. Procedure changed?
2) Procedure for processing old citizenship files, which are applied offline & all formalities has been completed.
3) Procedure of old online citizenship files, whose all formalities has been completed , but pending due to security clearance.
4) Acceptance of AFFIDAVIT from Indian Origin applicants, whose either parent born before 15.08.1947 but have not any document for parent.
5) The procedure of submitting the citizenship applications, who migrated to India before 31-12-2014 & do not possess any travel document (like passport, Residential permit) .They have been authorised by MHA Govt. of India notification F.No.25022/50/2015-F.1 dt.07-09-2015. AFFIDAVIT Format & standard operating procedure to regularize their stay at FRO should be issued.
6) Acceptance of valid Pakistani passport of children of Hindu migrants @ DM Ahmedabad office. As per Pakistan Citizenship law, PHC New Delhi does not accept the Pakistani passports of children below 21 years age.
7) Time frame for completing all procedures of different offices/authorities in time bound manner right from submission of citizenship application at DM office to grant of Indian Citizenship certificates. (180 days maximum)
8) Pakistan High Commission do not accept surrender of Pakistani passports since (05.08.2019) last 15 days . Kindly Accept valid Pakistani passports @ DM office for getting Indian citizenship certificates. This was accepted in JCCAB meeting on 18.04.2017 @ Ahmedabad.
9) Provide DC/DM office, State Home deptt new computers ,scanners, printers & other equipments for better & quality issue of citizenship certificates to Hindu migrants.
10) Monthly review meeting of all concerned deptt. to monitor progress in citizenship cases & pending cases in each deptt.
Once again Hindu migrants, their relatives, well wishers, SMMA team are thankful to Honourable District Collector Dr.Shri Vikrant Pandey ji & his team for the issue of citizenship certificates in minimum possible time. Honourable DM has requested Director (Citizenship) to expedite the clearance of 182 applicants files from concerned deptts, so that 200 citizenship applications can be issued on DIWALI time.
---
Source: World Hindu News