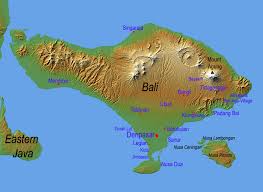 The Bali Police are preparing to safeguard the island during the various religious holidays coming up in the next two weeks, an official said.
"We are ready to safeguard all religious activities across Bali," Bali Police spokesperson Adj. Sr. Comr. Hery Wiyanto told The Jakarta Post on Monday.
The upcoming holy days start with Galungan for Hindu devotees on Wednesday (May 21). The administration has designated three days of public holiday for Galungan, starting today (May 20) for penampahan Galungan until Thursday (May 22), known as manis Galungan.
Hery said that the Bali Police would not conduct any special operations for the religious days. However, police across Bali would remain alert to prevent any security issues.
The police are also coordinating security details with the pecalang (traditional Balinese security guards) in customary villages. "As this is a religious activity, we work with the pecalang. They play a major role during Galungan," he said.
As a tourism island, the police also pay attention to security in the many tourist attractions across Bali, deploying tourist police to ensure the island remains safe.
"The police will not be on vacation during the religious holidays," he stressed.
Meanwhile, Hindus across Bali have been preparing for Galungan since last week. Traditional and modern markets have been flooded with people buying fruit, flowers, banana leaves and many other items especially for Galungan.
Hindus have also begun to erect penjor, a decorated bamboo pole, in front of their homes, which for many is the symbol of the dragon, a beautiful evocation of wealth and prosperity.
Galungan, the day to celebrate the victory of dharma (good deeds) over adharma (bad forces), is one of the major religious celebrations on the island and is followed 10 days later by Kuningan.
On Wednesday, Balinese Hindus will flock to major and family temples to perform their special Galungan prayers.