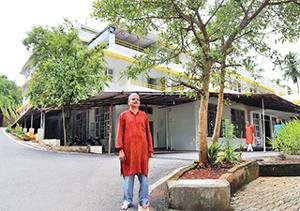 By Alka Dhupkar

As the spotlight turns to the Sanatan Sanstha after the arrest of its `sad hak', Sameer Gaikwad, in connection with the murder of rationalist Govind Pansare in Kolhapur, the Goa-based Hindu outfit's managing trustee, Virendra Marathe, says his organisation believes itself to be the custodian of `real' Hinduism.

What is expected of a sadhak? 

Sanatan Sanstha is public charitable trust. We are adhyatmik (spiritual) and we only do spiritual work by `sadhana' (prayer medita tion). A sadhak practices different types of sadhana and dharmacharan (how a Hindu should behave and which practices should be followed). Our aim in life is to be happy, and happiness is god. 

Do you believe Sameer Gaikwad was happy? 

Instead of asking us about Sameer, look at it this way: in school, all students are taught the same lessons. Some go on to become scientists, some goons. So, will you hold the teacher or the school responsible for the lat ter? It answers your question. 

Do you disown Sameer Gaikwad? 

Sanatan Sanstha is not behind Dabholkar and Pansare's murders. Sameer is innocent, and we know it. Certain forces want to implicate us in wrongdoings, and we're fighting them. No investigation agency has ever proved that the Sanstha has indulged in criminal activity, and Sameer has no criminal record either. Let the law take it course. We will wait for the judiciary to hold him guilty, and then verify the police evidence against him. 

Why is the Sanstha insisting he is innocent? 

The police have only call records, and are checking if Sameer was directly involved. It is at a very primary level. The media is portraying that Sameer killed Pansare at the Sanstha's behest. 

How did Sameer's family members become sadhaks? Have you met him? 

I have never met Sameer Gaikwad or his family. I have no idea about his friends circle. Our legal team, the Hindu Vidhidnya Parishad, is looking into it. 

Why is the Sanstha being suspected in these murders of rationalists? 

Our duty is to protect the rashtra (country) and religion, for which we are doing Sadhna. 

This can be done only if society is intact and safe. We meditate for hours. If the rashtra is been attacked by terrorists then we can't sit doing sadhana for hours. That's why we have to do dharm rakshan (protecting our religion). We are strongly against our religion being disrespected in cinema, drama and art. 

A part of our work is to keep a watch on what people like Dabholkar and Pansare say about the Hindu religion and how they are misleading common people. We would counter their claims and tell people that Dabholkar was an atheist, as he doesn't fol low the real Hindu religion. He was not a true follower, so what gave him the right to criticise Hinduism? We will now oppose Dabholkar's followers. We have got their play, Socrates to Dabholkar via Tukaram, banned in Kolhapur. 

The play says Sant Tukaram was killed, while we believe he flew to heaven in the aircraft sent to him by god. About Pansare, yes, we had strong differences with him as well. He used to spread hatred against Brahmins through his speeches. We had requested him, warned him, protested against him but he didn't stop. 

We, as Hindus, wanted to eliminate the caste system but Pansare wanted to propagate it. Pansare has a strong connection with the Sambhaji Brigade, which speaks ill of Brahmins. Why we should tolerate it? We will continue protesting with our sadhana. 

We didn't know Kalburgi till he was killed, but a statement attributed to him is "Urinate on Shiva's ling". What should we say about their intellectual level? Shouldn't we condemn it? 

How can the Sanatan Sanstha decide what constitutes `real' Hinduism? Anyone criticising Hinduism becomes your target. 
We know Hinduism because we have done scientific sadhana. Only a doctor can practice medicine, right? Will it be acceptable if an engineer practices medicine? In the same way, these people who have not done sadhana and don't follow Hinduism correctly have no right to criticise our religion in the name of Karmkanda rituals or superstitions.It would be better for them to stop doing so. 

Do you have such differences with anyone else? 

We don't target anyone personally, but some followers of Dr Dabholkar leading the Andhashradha Nirmulan Samiti are insulting our gods. All Samyawadi (Leftists) should also be banned in India. They have no idea about Indian culture and religion. There are these so-called `purogami' (progressive) intellectuals who are getting unnecessary importance. They actually speak rubbish. I don't need to take their names. We oppose them. These so-called progressive people oppose Vinayak Damodar Savarkar's Hindutva ideology. They selectively talk about Savarkar's thought when it comes to the beef ban. They should first accept Savarkar's Hindutva ideology. 

Why did the Sanstha target Mahesh Bhatt, Asgar Ali Engineer, Markandey Katju and others during an All India Hindu Adhiveshan (convention? 

We have been organising this convention for four years to brainstorm with like-minded organisations on how we can protect our Hindu rashtra. This year, the adhiveshan was held in June and attended by 200 organisations including Abhinav Bharat, Bajrang Dal, Hindu Rashtra Samiti and the Hindu Kutch Samiti. Our sister organisation is the Hindu Janajagruti Samiti. We discuss threats to Hinduism, and the names you mentioned are insulting the religion. We won't tolerate it. It is a kind of intellectual terrorism by these `progressive' people. 

When you say the Sanstha will not tolerate it, do you intend violence? 

Not at all. Hinduism is based on non-violence. We use all democratic forms of pro test. We request the police to ban such speeches or programmes. Unfortunately, after our applications, people like Dabholkar and Pansare were given police protection. 

Such programmes are conducted under police protection when they should be banned. We also go to court and create awareness through public meetings, doorto-door campaigns, our media content and study material.

Your study material has pictures of Shivaji, Savarkar, Tilak but not Mahatma Gandhi's. 

We have declared Gandhi as a saint. But he has done many wrong things and we have our differences with him. He supported Muslims during Partition, advised Hindus to not attack Muslims. This is why many Hindus were killed during Partition. The Partition wouldn't have happened without Gandhi's approval. He pampered Muslims politically, more than the Hindus. 

But Gandhi advocated non-violence, and so does the Sanstha. 

No. Non-violence and self-protection are different. When Muslims attack Hindus, they should protect themselves by attacking their attackers. We believe in military and arms training. It is not violence. We believe every Hindu should get military training for self-protection. 

Are sadhaks trained in use of arms? 

Yes. We hold military training sessions for our sadhaks in Valpai forest. Around 15 sadhaks have been trained in using firearms, walking a rope, surviving an enemy attack, hide in the forest. 

Who were these sadhaks who received military training at Sanstha camps? 

We don't have their names. We ran those camps for only two years. We hired arms and ammunition from locals who held arms licenses. The Sanatan Sanstha does not have any arms license, arms or ammunition. We don't require one. 

Do you expect support from the BJP government at the Centre and the state? 

Yes. Both BJP and RSS are based on Hindutva ideology. We have hopes from them. A clean Ganga is top priority, as is resolution of the Kashmir issue. We expect a lot in education as well. Muslims get religious education in madarsas, Christians in churches. In Hinduism, verbal education is not sufficient due to the sheer numbers. The Sanstha teaches scientific religious education. The government should make it available to all. Our guru Athavale and new saints have made formats to measure spirituality, using which one can do sadhana and follow Hindu practices. 

We have written to the Centre demanding that Hindu religious education be part of the school syllabus – how to offer floral tributes to god, what food items should be offered and when, for example. 

Do you think BJP will do it? 

The government has supported Yoga but have removed `Om' from Yoga. Why is the government afraid of Muslims? Why is the government overly concerned and sensitive to Muslims? Let them follow the rules. Why be so careful as to insult Hindus? Without `Om', Yoga has no meaning. We don't like BJP and RSS's political adjustments, be it in Kashmir or the beef ban. 

We have published reports and books on how two cows can earn their owner Rs 11,000 per month. Also, there is a huge demand for Gomutra (cow's urine). The government should extend tax subsidies and other facilities to promote industry based on Gomutra collection. It has huge potential to become economically viable. 

Platforms made from cow dung are in huge demand, even abroad. 

What should the government do for followers of other religions? 

Calling Islam and Christianity `religions' is totally wrong. They are just panths (branches). Only Hinduism has existed since the beginning of this world. Islam and Christianity 

The meditation room at the Sanstha headquarters were founded by humans. We want that India be known as a `Hindu' nation in our Constitution, and this change should be brought by religion-based politics. 

Will the Sanstha enter politics? 

Yes, but saints in the Vairagya (internal state of mind) phase are not interested in politics but those at a spiritual level of 60 per cent can enter politics. They can be from any party, even the Congress. My point is, all politicians should start Hindu Sadhana. 

What if the Sanstha is banned? 

There is no possibility that the Sanstha will be banned. If it is, we can continue our work without name or letterhead. What is the difference? We already have our network of over one lakh sadhaks in Maharashtra, and are connecting online to sadhaks in Serbia, Australia and other nations. We have strong door-to-door pracharaks. We will continue to do our work of protecting the Hindu rashtra.