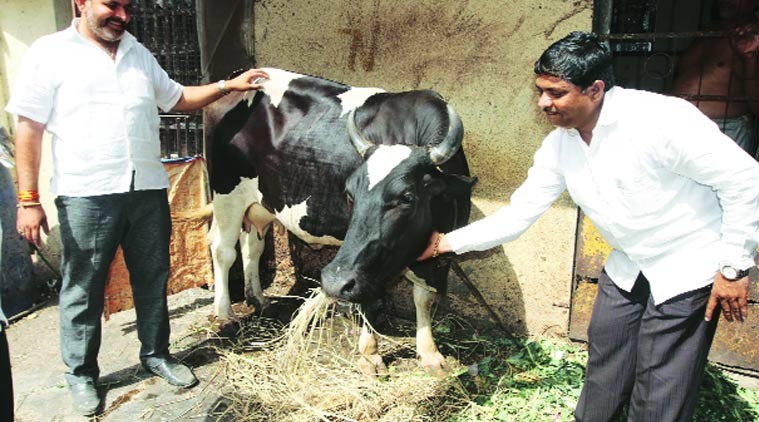 Ashustosh Tiwari (left) and Rajendra Patil, members of VHP's gaurakshak cell, at a gaushala in Thane.
Written by 

Anjali Lukose

 | Mumbai | Updated: April 8, 2015 1:54 am
Since the beef ban was enforced in the state in March, the Bharatiya Govanshrakshan Samvardhan Parishad of the Vishwa Hindu Parishad or VHP's work of "saving govansh" has intensified. In the last three weeks, the Parishad has made 23 calls topolice stations in Bhiwandi, Rabodi, Mumbai, Kalyan and Palghar, tipping off the policemen on "bulls, bullocks and milching buffaloes being transported for slaughter".
Based on their tip-off, the Thane police on Tuesday arrested one person for allegedly transporting two bullocks and booked him under the Maharashtra Animal Preservation (Amendment) Act, 1995. This comes two weeks after the Malegaon police arrested threepeople for allegedly slaughtering two calves.
Senior Police Inspector S D Langhe told Newsline, "We had information that the two bullocks were illegally smuggled for slaughtering within our jurisdiction. A team was sent and the accused has been arrested. This is the first case in the Nizampura policestation under the new Act."
It was around 2.15 pm Tuesday when Ashutosh Tiwari, Parishad's volunteer, received a call. He asked the caller, "khabar pakki hai na (is theinformation credible?)". After the caller confirmed, at 4.30 pm, around four men from the Parishad along with eight policemen waited along the Pakhadi road in Bhiwandi and halted tempo number MH06 AG 5487. The tempo cover was lifted and two bullocks raised their heads. A thrilled Tiwari said, "Fourth time's the charm."
Thrice earlier, police had conducted raids based on their tip-offs but had to return empty-handed.
Meanwhile, the police in Mumbai have intensified patrolling in sensitive pockets where beef demand is huge. "We have increased patrolling in areas like Nagpada, Byculla, Agripada in South Mumbai and Govandi, Mankhurd in the eastern suburbs to ensure cattle is not smuggled or slaughtered here," a senior police officer said.
According to Rajendra Patil, state president of the VHP's gowraksha cell, the modus operandi of transporting these animals has changed. These animals, who were once carried openly, often stuffed inside tempos during the day, are now being brought in trucks under the cover of night, hidden by tarpoline sheets.
"We get information from several Jain and Hindu groups and individuals who careabout these animals. They are concerned about their safety and do not want to getpublicly involved in the matter. They just tell us and we do a recee and inform the police. We missed so many chances because there are leaks in the local police force," said Patil.
The impounded animals are taken to the Parishad's gowshala at Bhiwandi-Angaon, where around 1,800 old, infirm bulls, bullocks, cows and buffaloes are cared for.
"We do it because gau mata is special and I have been especially blessed by her. I used to eat meat before, chicken and fish mainly, but since volunteering here, I have become a vegetarian and the gaumutr-based medicine has even cured my asthma," says Patil, just as the helplinefor "gowvansh raksha 8898770707" buzzed again.