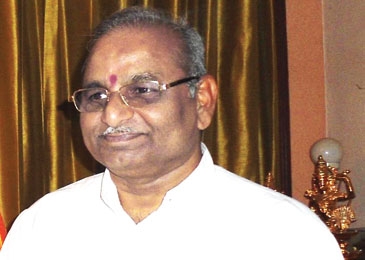 Prof Venkatesh Abdeo, Central General Secretary of Vishwa Hindu Parishad (VHP) passed away in Pune, Mahrastra earlier this week after a prolonged illness. His sad demise is mourned by thousands of VHP supporters and members. A true Hindu to core and a dedicated senior RSS leader he was. He was a close aide of Late. Shri. Ashok Singhal (Former VHP president adored by millions) and a prominent voice of VHP in Maharashtra.  He was an author of book namely Love Jihad-The New Face of Terror.
Prof Venkatesh Abdeo was a soft spoken person and was always accessible to its Karyakartas (volunteers) with a large open heart. He was the key spokesperson for VHP in Mumbai and Maharashtra region due to his wisdom and knowledge of current affairs concerning Hindus and Hinduism. As a dedicated RSS functionary, he was instrumental in fighting for the Hindu causes during the draconian and regressive governments of Indian National Congress (INC) in Maharashtra and India – during that dark and gloomy era, Hindu's were branded as a second class citizens and Hindu human rights was crushed with an iron hand. Very few had the courage and tenacity to rise and speak openly and Prof Venkatesh Abdeo fought fearlessly for multiple Hindu causes working from the Grant Road based Pijora Mansion office of Vishwa Hindu Parishad, Konkan Prant with very limited resources.
The author, Rahul Chandra had a unique relationship with Prof Venkatesh Abdeo, in his very first visit to Prof Venkatesh Abdeo at VHP's Pijora Mansion office in late 2012, Prof Venkatesh Abdeo told his associate candidly 'Aree ..Rahulji toh humari tarah sochate hai' (You see, Rahulji think's like us). He listened attentively on how American Hindus think of VHP, Hindu issues in India and issues American Hindus face (at that time, the author  was an executive board member of Vishwa Hindu Parishad of America). He agreed to the rationale that films, art and music industry in Mumbai region is being highly misused by Anti Hindu forces against patriot, nationalist organizations and is brainwashing Hindu youths at an alarming level, which is alienating progressive Hindus from Hindu organizations.
Prof Venkatesh Abdeo was a great listener, thoughtful human and an intellectual. His subject matter know-how in current socio-political affairs was deep, he was an influential senior leader in RSS circles and his programs were unquestionable. He dedicated his whole life in the service of Dharma and Hindu empowerment, living a simple but a very busy life as a key VHP leader at local, national and international events creating awareness among Hindus and enlightening them to wake up and join patriot Hindu for the welfare of our nation and Dharma. A fearless and motivated leader he was with crystal clear fundamentals on Hindutva.
His memory will always be cherished in the heart of Hindus as a great selfless, dedicated and intellectual Hindu leader of Bharat. Some sample statements of Prof Venkatesh Abdeo during his era are listed below, highlighting his vision, farsightedness and courageous personality in the restive Anti Hindu socio-political environments during the Congress – NCP Governance era. While there are hundreds of other key landmark statements given by Prof Venkatesh Abdeo for the betterment of Hindus in India and abroad, below few media statements will give readers an insight of this great man.
---
'Love jihad victims are across social strata' Interview to MAMTA CHITNIS SEN on his book: Love Jihad-The New Face of Terror

Source: www.sunday-guardian.com/news/love-jihad-victims-are-across-social-strata

We have been making a demand in the Hindu sammelans (which are being held by the VHP across India) for family planning and a small family being made mandatory

Source: DNAIndia
VHP files case against Karunanidhi in Mumbai court: He said the Tamil Nadu Chief Minister had questioned the existence of Lord Ram, adding, "He went a step ahead and even called Ram a drunkard.

Source: www.rediff.com
We will undertake an awareness campaign against love jihad (in Maharashtra)

Source: DNAIndia
We are demanding a law proscribing the conversion of Hindus to Islam and Christianity

Source: The Press reader
The kosi parikrama yatra would take place as per schedule from August 24, and there won't be any change in it.

Source: India Today
---
Center for Hindu Empowerment (Hindu Empowerment Office), World Hindu News (WHN) and Vishwa Hindu Samachar (VHS) pays it's deepest condolences to the friends, family and associates of Prof. Venkatesh Abdeo. May God gives strength to near and dear ones of Prof. Venkatesh Abdeo in this time of great grief and our prayers and best wishes are always with the family and friends of Prof. Venkatesh Abdeo ji. Our salutations to the rich pro Hindu legacy of Prof. Venkatesh Abdeo. Prof. Venkatesh Abdeo Hindu empowerment legacy will inspire generations of Hindus to never give up. Om Shanti Shanti Shanti!
---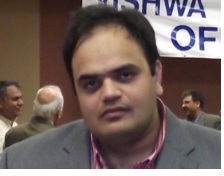 Rahul Chandra Sharma, a former national executive council member of Vishwa Hindu Parishad of America, is the Director of Center for Hindu Empowerment, a program of Global Hindu Foundation and executive editor of World Hindu News and Vishwa Hindu Samachar digital news portals, programs owned and managed by World Hindu News Company. He is associated with patriot Hindu organizations since 2002. He can be reached at office.rahulchandrasharma@gmail.com