When you fight for Hindu cause, it's evident that there will be some retaliation for the work you do on your professional life or business. The author in his quest to mobilize overseas NRI Indians and 'Modi As PM' Mission suffered big blow to his job and US Green Card prospects in Feb 2014 – early 2014 when authors pro -Modi activism was at peak. The author generally don't speak up on such lifetime pains and professional , personal accrued during such activism work, but yesterdays crass article by NDTV Senior Executive Editor Mr. Ravish Kumar has forced the author to write on his job sacrifise with one advice to Mr. Ravish Kumar , that when you enter as a gladiator in this great Indian political arena, you come with a disclaimer and personal liability for your life, your business, your job , it's your own individual conscious choice for your ideology and the vision you have for India.
"PM Modi, Will I Lose My Job?" – By Ravish Kumar
https://www.ndtv.com/blog/open-letter-to-pm-modi-by-ravish-kumar-1756628?pfrom=home-topstories
Ravish Kumar is accusing PM Modi for his job insecurity due to the Anti Modi campaign he, his employer NDTV and the global gang of comrades, whereas the author Mr. Rahul Chandra feels proud that his job loss due to 'Modi As PM' Mission 2014 campaign resulted in success – i.e. Narendra Bhai Modi is today PM of India. That sight and feeling that PM Modi is India's head makes all petty past pains insignificant for the author and below article describe in detail his job loss story.
Seeing Indian PM Narendra Modi addressing the joint US Congress session was indeed a great pleasure for Rahul Chandra, an Indian American writer and program manager for multiple Hindu empowerment projects. Today, he cherishes PM Narendra Modi given red carpet welcome in US and European capitals and elsewhere and joyously listens to his speeches at international forums. Rahul Chandra mission to see Narendra Modi as Indian PM is reality, today he sees this lion roar across the world bringing glory and respect to India.
This is today, not long ago in 2013 and early 2014, there was so much hatred and opposition for Narendra Modi in various major US capitols of unimaginable broadband. One can imagine this supremacy of anti –Modi lobby, which consists of seasoned leftist, Islamist's of Indian origin and Pseudo Secular liberals with affiliation to Pakistani ISI, that for nearly a decade less than dozen of such organizations were successful in convincing US Senators and Congressman to lobby against Modi US VISA and prohibited his entry into world largest democracy with nearly three million + Indian diaspora. Once, Mr. Ramesh Shah, a prominent leader of Ekal Vidyalaya Foundation USA was threatened by a heavyweight far right Christian activist in Houston that his group will 'Finish Off Narendra Modi' in a community event, per his talk with Rahul in Houston.
Those dark ages were dangerous for any Modi supporter, especially the public poster boys furthering his campaign and Rahul Chandra was received no different response. Rahul was the prominent member of national IT team and North Houston Co-Ordinator of GIBV – Global Indian's for Bharat Vikas – an organization founded by Dr. Mahesh Mehta (one of PM Modi's mentor) which mobilized all US Indian organizations in mid-2013 until the 2014 elections.
Now as an office bearer and organizer of multiple 'Chai Pe Charca' events in Houston, Atlanta and Florida along with managing 'Modi for PM' stalls in Houston, he was a public face in social media and press releases. He was in the radar of Anti-Modi forces in America and personally received many threats in person of dire consequences like 'legal litigation', 'Wait & see bad things happens to you' and likewise etc. during such 'Modi for PM' booths and stalls in America. Very few individuals in America had the courage to be in front and lead such pro-Modi programs as threats were common and evident. That time US Govt. and agencies were also watching such pro-Modi activities closely and no-body would dare to take any chance to engage in litigation, job loss and cyber bulling, abuse etc. for pro-Modi political programs. Indian Govt. led by Congress was trying his best to suppress any such success politically via. overseas diplomatic missions e.g. illegal detention of Baba Ramdev at London Airport.
But such eminent threats didn't deter Rahul from empowering 'Modi for PM' programs in America. He entered this mission on his own risk and he was aware of the powerful anti-Modi lobby in US and international. He correlated the situation of Hindus in India to a Bollywood Movie namely 'Tiranga' where actors were Rajnikant, Dharmendar and Vinod Khanna and a mighty 'foreign' villain who was resolute in making Indian slaves in conjugation with foreign powers. The despair, madness and helplessness of the public forced cowboys like Dharmendar and Vinod Khanna to take lead and destroy this villain kingdom eventually with local population. For Rahul, Modi was his Dharmendra and Amit Shah, his Vinod Khanna and last hope for India (Bharat Mata), which was suffering from multiple organ failures. Pakistani ISI and it's political puppets in India were very close in diluting Indian sovereignty, not only the media, film, music & art industry but also Police, educational institutions, NGO's including large led by small political parties were conquered by Pak ISI. Only the RAW / IB (Indian Intelligence Agency) and Military were to be conquered and India was very near to a bloodless conquest by Pakistan (backed by China and other foreign Anti India powers), eventually becoming a colony of Pakistan.
A normal Indian may laugh at above statements but persons of interest in national politics and national security are aware of this situation including PM Narendra Modi. The recent exposures of Ishrat Jahan case, fake framing of Hindu leaders by Maharashtra –ATS, NIA Vs. RAW fight, bursting of widespread ISI modules and Underworld & NGO's syndicates, Leftist violence, media trials are broader evidence of India's final journey as Pakistani colony. Rahul knew that horrors faced by Yazidis in Iraq by ISIS will be repeated in India if Narendra Modi loses elections. Here Yazidis will be Hindus and ISIS will be Pak Terror groups.
The pro-Indian intellectuals in USA joined forces with one slogan 'If in the 2014 general elections, Congress comes to power again, India will witness the worst dark ages for generations to come, Please vote for Namo as PM' .
But there is always a price for a good change; Rahul paid the price by losing his $120000 job in American Tech giant and subsequently getting his Green Card process nullified. In late 2013, Rahul was working for an American Tech Giant MNC in Houston area; his manager was a white American man, another manager, Ashwin Thomas (name changed) in the same organization, was an Evangelical Christian from Kerala – a professional and hard working person. Everything was going good for three years, until one day in the coffee area he asked Rahul what was he doing with those big pro- Modi shots in one community events and the press has his photos of that pro-Modi event. Rahul told him that he is volunteering for PM Modi. Ashwin Thomas eyes were furious and in his next statement he said "you are a senior leader in American Hindu organization, an RSS affiliated organization, I did research on your online presence and now I know who you are", he later continued 'Why you guys are now here to create problems, I will see what problems you create here'. Rahul replied back saying he just volunteer, that's it. Ashwin Thomas left with an expression of 'wait & see'. The episode was witnessed by Rahul's colleague Ram Kapoor (Name Changed), who hails from Rampur, Himachal Pradesh as he was standing by and listening; Rohan Khanna was in direct report to Ashwin Thomas. At that time Rahul realized that he is on the radar of a prospective adversary of Narendra Modi and RSS in his organization. Though Rahul was in a senior position, Ashwin Thomas was a heavy weight in this organization with cordial relations with the directors and CIO. It was just the beginning of a proxy corporate game plan by Ashwin Thomas, whose Rahul was blue eyed boy once and post seeing Rahul picture with pro-Modi leaders is now a substance of gore abhorrence. It was Ashwin Thomas who facilitated hiring of Rahul into this American multinational back in mid-2010 and wanted him in his team instead.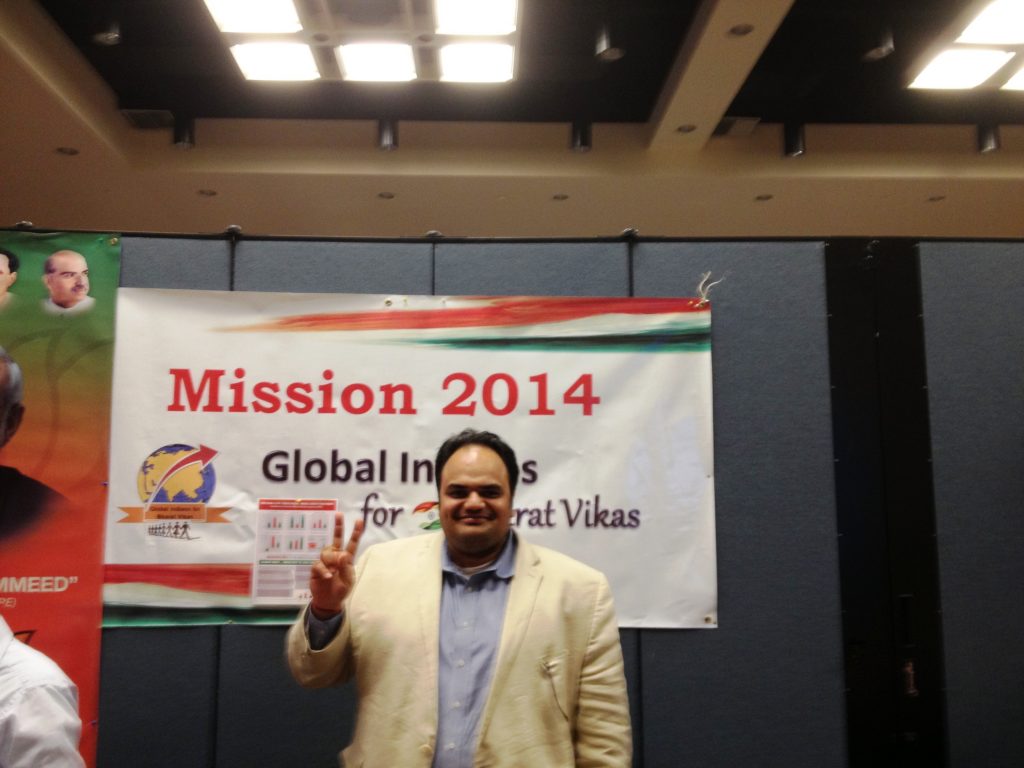 This behavior and sweet smiling threat was no surprise to Rahul as he was aware of Ashwin Thomas community volunteer roles and his absolute faith in the Evangelical church and prospective alliance with Anti –Modi lobby in America. What happened in upcoming months was natural, Ashwin Thomas who was in very cordial terms with a white American lady manager, Kathy Jones (name changed) brainwashed her that Rahul works for right-wing Hindu groups in America and needs to be fired as soon as possible, it happened in late 2014. Rahul witnessed a drastic change in Ashwin Thomas behaviour for him, who used to smile earlier during leadership luncheons, but now had a sadistic look in her eyes. Ashwin Thomas was co-managing the global project where Rahul was a specialist, though Rahul's was reporting to Jack Patterson (name changed). One day, an announcement came from Ashwin Thomas that an employee from London, UK namely Saleem Hussain (UK Citizen, name changed) will be taking roles and responsibility of Rahul and share key process. Saleem Hussain was having similar skill sets of Rahul and Kathy Jones facilitated her migration from UK to US. As a matter of luck, one day while having his lunch in one of the focus rooms, he heard Saleem Hussain having meeting with Jack Patterson in an adjoining room with senior director. Kathy Jones was shouting in the meeting that Rahul needs to go soon and to be replaced by Saleem Hussain again and again Ashwin Thomas was so loud in praising Saleem Hussain again and again that Rahul's manager and director couldn't even intervene. When the director told Ashwin that Saleem cost to company (for his migration and H1B) will cost a lot in this tight financial year, Ashwin Thomas said that his cost centre will bear all cost. The meeting ended in a note that in next three weeks, Rahul will be fired from the job by Mar 2014.
It was a sheer co-incidence that Rahul was in the adjoining room with his ears glued to the separation wall where he witnessed his execution plan by Ashwin Thomas. Seeing his days are near, rather than to wait and being fired, Rahul immediately started looking for other firms and resigned from this company in early 2014. Along with this resignation he lost his Green Card (Permanent residency) application process which was in final phases under high priority EB2 quota (a quota given to highly educated specialists in America). His American dream hit a road block and cased a great deal of inconvenience to his professional career. During his team farewell get together, Ashwin Thomas was absent and his colleague Ram Kapoor wished him good luck in pain.
Loss of $120,000 annual package and Green Card didn't deter Rahul from working for Pro-Modi programs in America. He was able to transmit pro-Modi messages to millions via. his media portals, his enthusiasm motivated hundreds. His 'Chai Pe Charcha' programs mobilized South West America.
Anti-Modi Ashwin Thomas achieved victory in fracturing Rahul's enthusiasm for pro –Modi work and Pro-Modi Rahul achieved victory in empowering Modi's further as Indian PM. And finally in 2014 May, when Narendra Modi was sworn in as Indian PM, it was a simulation of 'Tirangaa' movie with Narendra Modi (Dharmendra) and Amit Shah (Vinod Khanna) saluted 'Tirangaa' (Indian flag) in high glory.
---
The author can be reached out at rahulchandrasharmaji@gmail.com, he was the co-coordinator for Mission 2014 Political campaign for South East USA.

Names of persons and companies have been changed in this article as part of authors intellectual property and non disclosure agreements with the firms he served and protect identity of professional associates.
---
Disclaimer: The opinions expressed within this article are the personal opinions of the author. World Hindu News is not responsible for the accuracy, completeness, suitability, or validity of any information on this article. All information is provided on an as-is basis. The information, facts or opinions appearing in the article do not reflect the views of World Hindu News and World Hindu News does not assume any responsibility or liability for the same.