REGISTER TODAY for our early bird special    ending on July 31st!
---
Key Program Highlights
Plenary addresses and talks by world renowned leaders & dignitaries

Over 15 parallel sessions featuring experts in Science, Environment, Sanskrit, Vedanta, Business, Media, Politics, etc.

Daily yoga & meditation workshops with famous teachers

Saturday International Concert (a $40 value) featuring world renowned artists and performers – Flute Virtuoso Rakesh Chaurasia, Mandolin Virtuoso U Rajesh, Ghatam (clay pot) Virtuoso Giridhar Udupa, Composer and Percussionist Rajeev Mahavir, Kathak Guru Rachna Sarang's Academy, AKS & Balinese Dance Theater

Friday evening Garba & Bhangra with live band

Networking opportunities with dignitaries & attendees from across the globe
All of the above is included with registration fees!
---
Sponsorship Opportunities
Create positive brand visibility by showcasing your products and services prominently along with broadening your exposure to a global audience. The conference will be widely publicized, broadcast and covered via several Indo-American and mainstream news and media outlets in the US as well as around the world.
Sponsors will also receive on-stage recognition and premium placement of advertisement materials throughout the conference.
 
Click here to learn more and download information about individual and corporate sponsorship.

I hope this finds you in good health. The Hindu Students Council is 25 years old in 2015 and to celebrate the work of Hindus on Campus, HSC is organizing the second Global Dharma Conference from more than 3,000 delegates from all over the world are expected to attend this historic event in which celebrity speakers from all walks of life are going to enlighten and inspire the audience. In addition, we have assembled a very diverse group of artists from US and India to entertain the delegates. Please mark your calendar and I sincerely hope you will support the HSC and the cause of Dharma by attending this important event. 
Yours in the service of Dharma,
23 Confirmed Speakers, Including
Pujya Sri Sri Ravi Shankar, founder of Art of Living Foundation and a universally revered spiritual and humanitarian leader. Pujya Sri Sri will be addressing the audience via video conference.
Pujya Swami Dayananda Saraswati, a distinguished teacher of Vedanta and Convener of the Hindu Dharma Acharya Sabha. Pujya Swamiji will be addressing the audience via video conference.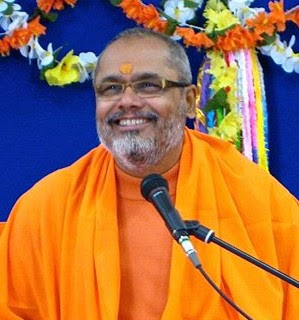 Swami Paramatmananda Saraswati, Founder & Acharya of Arsha Vidya Mandir, and Secretary of Hindu Dharma Acharya Sabha. Pujya Swamiji is a direct disciple of Pujya Swami Dayanandaji.
Dr. HR Nagendra, Chancellor of S-VYASA Yoga University, Chairman of International Yoga Experts Committee, Chairman of Task Force of AYUSH Govt. of India. Dr. Nagendra is also the yoga teacher of Prime Minster Modi.
Dr. David Frawley (Pandit Vamadeva Shastri), a world revered teacher of Hindu Dharma, Ayurveda, Yoga, Vedanta and Vedic astrology, and winner of the prestigious Padma Bhushan award by the Government of India.
Rajiv Malhotra, celebrated Indian-American researcher, writer, speaker and public intellectual and author of "Breaking India," "Being Different" and "Indra's Net." Mr. Malhotra is the founding director of Infinity Foundation. He also serves as Chairman of the Board of Governors of the Center for Indic Studies at the University of Massachusetts, Dartmouth.
"Sounds of Harmony"
Flute Virtuoso Rakesh Chaurasia

Ghatam (claypot) Virtuoso Giridhar Udupa

Mandolin Virtuoso U Rajesh

Composer & Percussionist Rajeev Mahavir

Rachna Sarang Academy of Performing Arts

BALAM Balinese Dance Theater
---
REGISTER TODAY for our early bird special ending on July 31st!
Source: WHN Media Network