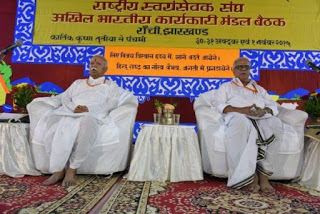 The Three-day Rashtriya Swayamsevak Sangh National Executive Meet began at Ranchi today.  Sarsanghachalak Shri Mohanji Bhagwat, Sarkaryavah (general secretary) of RSS Shri Bhayyaji Joshi will preside over this meeting. The Sanghachalak (President), Karyavah (Secretary) and Pracharak (Organizing secretary) heading each Prant (state units) of RSS from all over the country will take part in this ABKM. Other than these state functionaries, the 400 participants will include prominent karyakartas from social organizations working in different walks of life in the society. The meeting will deliberate on reviewing and future planning of organizational matters and activities and some resolutions on key national issues will be passed in the meeting.
 Shri Dattatreya Hosabale
RSS Sah Sarkaryavah Shri Dattatreya Hosabale addressed the media today.  In his briefing he stated that, "It is a deliberate attempt of some writers/historians/Film makers to wage a superfluous discussion on tolerance/in tolerance in this country. There are no such circumstances prevailing in the country which call for this discussion. It is a naked display of subverted aspirations. Where was this tolerance when Hindus were massacred in Kashmir and burnt alive in Godhra? Why the voices of Shyam Benegal, Vidya Balan and Anupam Kher are being neglected? This is nothing but politics.
This award returning gang is not the custodian of tolerance in this county. We condemn any acts of injustice whenever and wherever it happens in no uncertain terms.
This new found activism on part of so-called intellectual's stems from their frustration of not being heard by masses at large. How to remain relevant is the main driving force behind their noises.
Who is governing UP? Who is governing Karnataka? There is no "communal" or so-called "RSS backed" government in those states.
When Gujarat riots happened, Modiji as head of Gujarat government was held responsible for the same. Why not congress ruled central government was put to task? Why Mulayam Singh government is not being held accountable for any law and order problem which happens in UP? Why these contradictions?
Populace is aware of all the ill intents working behind these vitiated vibes. These intellectual will be doomed if media stops giving them space."
RSS to discuss religious census and may pass resolution accordingly.