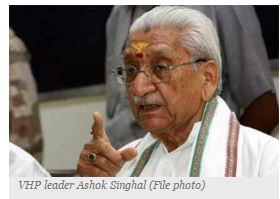 NEW DELHI: Vishwa Hindu Parishad leader Ashok Singhal passed away on Tuesday, less than a week after he was admitted to a private hospital in Gurgaon following complaints of breathlessness. The death of the 89-year-old Hindutva veteran was announced by Singhal's deputy in theVHP, Praveen Togadia. 

Singhal, who was diagnosed with right lower Lobe Pneumonia, was put on a ventilator on November 14 evening. Home Minister Rajnath Singh and other leaders of the BJP had visited him at Medanta Hospital in Gurgaon. 

Others who visited the hospital included BJP president Amit Shah, Yoga guru Baba Ramdev, Union ministers Harsh Vardhan, JP Nadda and Uma Bharti, Haryana's Governor Kaptan Singh Solanki and Chief Minister Manohar Lal Khattar. 

Singhal was referred to the same hospital on October 20, but he was discharged after he showed signs of improvement. He was brought back last week after his condition deteriorated. 

Singhal was at the forefront of the Ram Temple movement, which seeks to build a temple at the same site in Uttar Pradesh's Ayodhya where a medieval mosque, Babri Masjid, once stood. The mosque, which many believe was built on the birthplace of Lord Ram, was demolished by a Hindu mob in 1992.