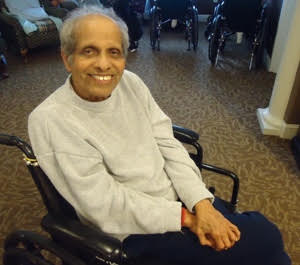 Hari OM.
It is with a heavy heart that I bring the sad news of Sharad Kulkarni Ji's passing away on June 8, 2015 after living for many years with Dementia with Lewy Bodies. His body was  privately cremated in Woodlands Texas.
It is a great loss for all of us in the Hindu community. Sharad Ji was a great supporter of VHPA and a very active member of the Hindu Community in Houston. His wife Beth Kulkarni was the president of the VHPA's Houston Chapter and continues to be our advisor and guide.
Sharad Ramchandra Kulkarni was born June 1, 1931, to Ramchandra V. and Sundrabhai Adarkar Kulkarni, the fourth of seven children, in Vengula, Ratnagiri District of Mumbai. He spent his first years in Vengula until his family moved to Bombay. Although Sharad loved to play cricket with the boys in his neighborhood, he soon realized that he needed to concentrate on his studies. He was a good student, continuing his education at Ria College of the University of Bombay, receiving his B.Sc. and M.Sc. in Chemistry. He received a M.S. In Chemistry from Texas A & M and completed his Ph.D. in Chemistry at the University of the Pacific, Stockton, California. It was there that he met his wife-to-be, Beth Beckwith, who was then an undergraduate student majoring in Physics. They were married soon after he completed his doctorate. Sharad and Beth then moved to Durham, NC, where he did post-doctoral work in the Biochemistry Department of Duke Medical School. Their daughter Shanti was born while they were in Durham. The young family then moved to Pennsylvania where Sharad taught at a Penn State campus and son David was born. Sharad taught a total of 13 years in Pennsylvania before the family moved to Houston in 1979. Sharad worked as a chemist for the City of Houston for nearly two decades before retiring in 1999. Sharad and Beth have lived in The Woodlands since 2004.
Sharad Ji will be remembered as a kind man and loving father, grandfather, and husband. We all cannot forget his ever smiling face, his humility and his large heart that was ever ready to embrace us all.
He enjoyed doing volunteer work which was always done in the background with no expectation of recognition or reward. He was also very proud of his children and grandchildren.
Sharad will be greatly missed by wife Beth, daughter Shanti, son David and his wife Melissa, grandchildren Meera, Matthew, and Sofia, and other relatives and friends.
Condolences may be sent to the family at 87 S Warbler Bend Circle, The Woodlands, TX 77382. Email.bethkulkarni@gmail.com.
May Ishwara grant sadgati to his Atman on its onward journey and give peace, strength and forbearance to all the family members.
Source: WHN Media Network