Representations submitted to the High Commissioner of Sri Lanka in India  
Mumbai – Extremist Buddhists from Kokkulaya area of Sri Lanka recently demolished an ancient Sri Vinayaka Temple for constructing 'Buddha-vihar'.  Such attacks on Hindu temples in Sri Lanka by fanatic Buddhists should be immediately stopped and Hindus' human rights should be protected. The above demand has been made by Hindu Janajagruti Samiti (HJS) with Sri Lankan Government through representations submitted to the Sri Lankan High Commission at Mumbai and Delhi on 3rd July 2015. It has been also warned to take note of the representations and convey action taken for safeguarding Hindus' temples; else agitation would be staged.     
It has been stated in the representation sent by Shri. Shivaji Vatkar, the Coordinator of HJS that 'We are shocked to hear about the attack on Sri Vinayaka Temple in Kokkulaya area by extremist Buddhists. It has been gathered from the news published by various channels and  websites that Bhikkhu Gunaratna Thero, known to be an extremist has hatched a plot  to demolish the temple and construct 'Buddha-vihar' in its place. Sri Lankan army is also a party to this plot. Bhikkhu Thero is involved in creating problems for Tamil Hindus and in their conversion. The only road joining North and East Sri Lanka passes through Kokkulaya area and is under control of Sri Lankan army. Hindus have a doubt that the above road has been taken over by Buddhists so that Hindus from these parts would not be able to be in contact with each other. The issue of demolished temple is in fact, pending in Court. The local administration has imposed ban to construct any kind of structure at the disputed place and issued notice to local Bhikkhus; still Bikkhu Gunaratna Thero, totally disregarding laws, has started construction of 'Buddha-vihar' with the help of Sri Lankan army and the Buddhists have taken over even a well in the area. A memorial has been erected for 2 soldiers who died in the war with Tamil tigers and Bhikkhu Thero has made it compulsory for Hindus to first bow before the memorial before drawing water from the well. Hindus fear that they might be disallowed to take water from that well, in future. Temples, inspire to undertake spiritual practice and have peace, are places of worship of Hindus. Positive and 'sattvika' vibrations are emitted through temples which purify the whole atmosphere. We have received complaints from Hindus all over the world about the attacks on Hindu temples in Sri Lanka; with demand that Sri Lankan Government should protect Hindus and their seats of worship. Indian Prime Minister recently paid a visit to Sri Lanka. In this background, Sri Lankan Government should protect local Hindus for improving relations between the two countries.
Human Rights Commission, UNO should take note of breach of human rights of Hindus in Sri Lanka ! – demands HJS
Copies of the representation have been forwarded to Minister for Foreign Affairs, Sushama Swaraj, High Commissioner (Human Rights) of United Nations at Geneva and European Secretariat in Ukraine. HJS has demanded with UNO's Human Rights Commission that an inquiry committee should be set up for taking necessary action against fanatic Buddhists from Sri Lanka who are oppressing Hindus; committing breach of their human rights.
Click here to view the representation submitted by HJS
Source : DSP
---
26 June 2015

Buddha Vihar to be constructed by demolishing Hindu temple in Sri Lanka !
Recently, Prime Minister Modi of India, which is a nation with Hindus as majority, paid a visit to Sri Lanka. This incident trampling religious sentiments of Hindus raises a question mark about the outcome of his visit !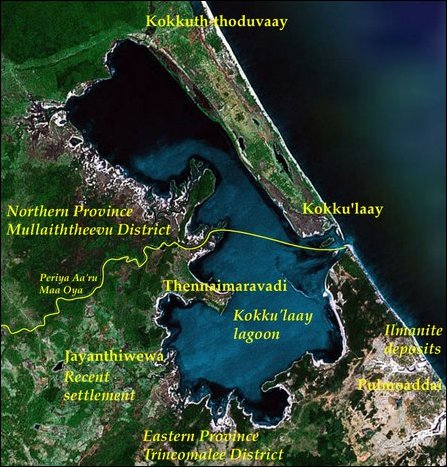 Colombo : Population of Tamil Hindus is more in North and East parts of Sri Lanka. On the roads which join these two parts, there is an area known as 'Kokkulaya'. There is an ancient Vinayak Mandir built by Tamil Hindus from this part. A local extremist Buddhist Bhikhu Gunaratna Thero has planned to build a Buddhist vihar by demolishing this temple and his plan has support of Sri Lankan army. It will, therefore, become difficult for Tamil Hindu brethren from North and East area to keep in touch with each other.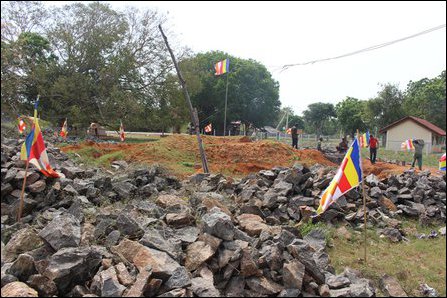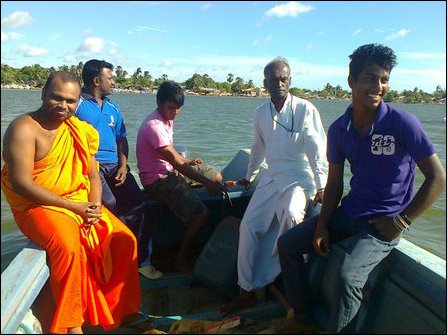 Bhikkhu Gunaratna Thero is known as an extremist and is also known for creating obstacles for Tamil Hindus and involved in their conversion. He is influential even with Sri Lankan army men. 'Kokkulaya' area is occupied by Sri Lankan army. The only road joining North and East passes through this area. There is dispute over this place and a case has been filed in Court. Local administration has imposed ban on erecting any kind of structure on disputed site and a notice to that effect has been served to the local Bhikkhus. Bhikkhu Gunaratna Thero has, however, paid no heed to all legal requirements and has taken help of Sri Lankan army in building 'vihar'. The road joining North and East parts is also included in the area of 'vihar'. There is a well in the area which provides water to local residents which too is included in area of 'vihar'; therefore, Hindus could be prohibited from using water of that well. There is a memorial of two soldiers who were killed in fight with Tamil tigers. Gunaratna Thero has made it compulsory for Hindus to bow before the memorial; before drawing water from the well.
---
For details Please Read this – 
Buddhist monk, SL military obstruct territorial contiguity of Tamil homeland at Kokku'laay
---
Source : Dainik Sanatan Prabhat