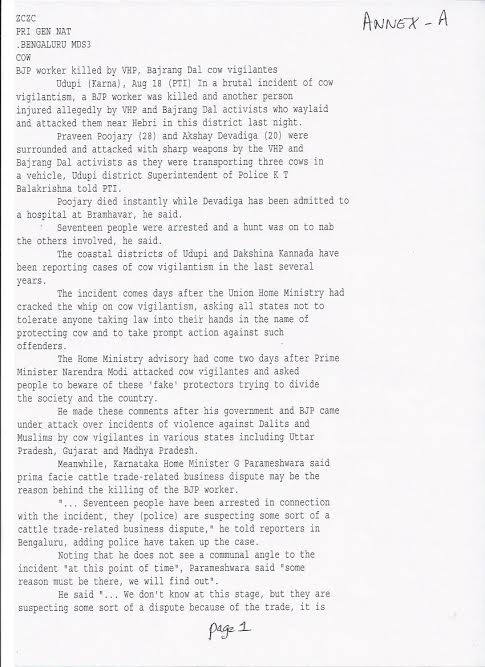 Dear Editors/Senior journalists,
Please find attached herewith a letter written to our prestigious news agency PTI regarding a story filed by them and relied upon by many of its subscriber news papers/Channels as it is, without verifying the facts or correcting the same as per the lead story re-filed by the new agency afterwards. As the initial story titling "BJP worker killed by VHP, Bajrang Dal cow vigilantes" was derogatory to VHP & Bajrang Dal and was containing some misleading facts, PTI has taken down the story (refer the trailing mail).
As such type of cases, reported by different media friends, has been noticed in the past too, your good self is requested to kindly take a suitable note of it and advise all concerned to check that facts are properly verified before filing a story derogatory/defamatory to an organization/person of repute.
With Best Regards
Regards
Dr.Surendra Jain
Int'l Joint General Secretary -VHP
Subject: Fwd: PTI story Derogatory to VHP & Bajrang Dal.
To: MK Razdan
Dear Mr. M.K. Razdan,
While thanking you for taking down the story, we wish to inform you that the state Home ministers' statement is also based on the police inputs only and police had never linked it to VHP or Bajrang Dal.
Thanking you
Regards
Dr. Surendra Jain
Int'l Joint Gen Secretary
Vishwa Hindu Parishad
From: sudhakar nair
Date: Mon, Aug 22, 2016 at 7:41 PM
Subject: RE: PTI story
To:
Mr Surendra Jain,
International Joint General Secretary,
Vishwa Hindu Parishad.
Subject:  PTI story
Dear Mr Jain,
This has reference to your email of August 21 complaining about a PTI story from Udupi about killing of a BJP worker.   Enclosed please find a copy of the initial PTI news report marked as Annex – A, in which the District Superintendent of Police K.T. Balakrishna is quoted as having said that a BJP worker and another person were surrounded and attacked with sharp weapons by VHP and Bajrang Dal activists.  Despite the Superintendent of Police having said that, we used the word 'allegedly' in the opening of the story.
However, subsequently we issued a revised story (Annex –B) in which police blamed Hindu Jagarana Vedike activists for the murder.  We also mentioned in that report that earlier the police suspected the hand of VHP and Bajrang Dal, thereby clarifying that VHP and Bajrang Dal activists were not involved.  We have taken down the story from our website.
Thanking you and with regards,
G Sudhakar Nair
Deputy Executive Editor
Press Trust of India
New Delhi 110001
Member
Press Council of India
Source: World Hindu News (WHN)