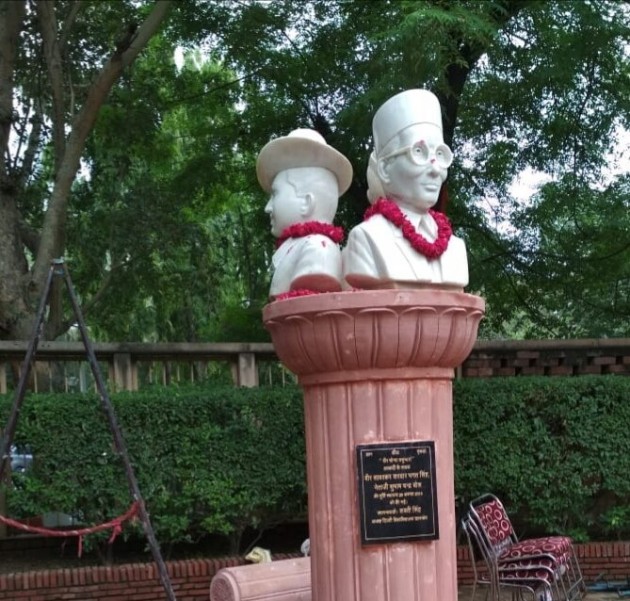 The ABVP has recently erected combined statues of veer Savarkar, Netaji Subhash Chandra Bose and Martyr Bhagat Singh in Delhi University. Yesterday night, the anti-national elements of NSUI – a Congress affiliated students' union garlanded the statue of veer Savarkar with foot-wears and blackened the face of that statue. This is a very irksome act and deserves to be strongly protested. This is the insult of not only veer Savarkar but that of the entire nation, the revolutionary movement and all patriots in the country. The persons committing this unpardonable crime should be charged with the sedition by treating them as anti-nationals, demanded Ramesh Shinde, National Spokesperson of Hindu Janajagruti Samiti. Ramesh Shinde also said, 'Now that the sins of Congress have reached the zenith, the patriotic people will end this sinful run of the Congress !'.
Declare 'Bharat Ratna' to Savarkarji immediately
Veer Savarkar was disrespected for 18 years by Congress even after India attained Independence, and such activities continue even after the death of Swatantryaveer Savarkar. Now, we request Prime Minister Narendra Modi to confer 'Bharat Ratna' on Swatantryaveer Savarkar to stop such insults permanently and legislate a stringent Act to deter those who denigrate the memorials of National Heroes. This will prove to be true honour of Swatantryaveer Savarkar.
Yours Truly,
Ramesh Shinde
National Spokesperson, Hindu Janajagruti Samiti
Source: Hindu Janajagruti Samiti