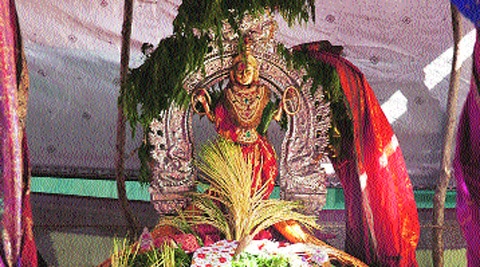 In May and June every year, Tamil Hindus of the Eastern province in Sri Lanka begin a 15-day marriage ceremony with a tug of war. It is followed by a symbolic marriage of their revered goddess Kannaki as they dress up a tree trunk in a sari, and marry it off, as if it were someone's daughter. While women are not allowed to be a part of this celebratory ritual, Malathi de Alwis, a cultural anthropologist, and Sharni Jayawardena, a photographer and documentary-filmmaker, managed to visually capture some moments.
One of the photographs by Jayawardena shows a tree trunk swathed in a red and golden sari, surrounded by rice, lentils and fruits. This image is part of a photo exhibition titled, "Invoking the Goddess", which is dedicated to the rituals around Pattini-Kannaki, the goddess of both Sinhala Buddhists and Tamil Hindus respectively.
The exhibition is a result of the duo's travels across Sri Lanka, over twoyears since 2009. It opened in Colombo in February this year, after which it travelled to Jaffna. It is currently on display at India International Centre, Delhi, before it moves to Melbourne.
"Invoking the Goddess" features photographs from various provinces of Sri Lanka, including Mattuvil in the Western province for primarily Buddhist rituals, and remote villages near Eravur and Ampara in the Eastern Province for Hindu rituals . "While there has been academic research on the goddess, nobody has looked into the patterns of worship after 20 years of war," says Alwis, whose specialises in political movements and post-war casualties.
As the mythology goes, from the south Indian epic Silappadikaram (The Tale of an Anklet), Kannaki, the chaste and loyal wife of Kovalan from Madurai, burnt down the city when her husband was wrongly executedfor stealing the Queen's anklet. She then moved to the island of Sri Lanka to cool herself down.
What inspired the duo was how both the Buddhists and the Hindus in Sri Lanka have been oblivious to each other's rituals. "A significant number of Sri Lankans are unaware that she is a shared deity, it's an indication perhaps of the alienation between the two main ethnic communities in this small island nation," says Alwis to help us personalise your reading experience.
The exhibition has many close-up shots of almost-possessed devotees,with pierced bodies and mouths, surrendering themselves to goddess Kannaki. Some women wear white saris, and roll around in mud, submitting themselves to Pattini, with the hope that her powers of fertility will rub off on them. "I have friends who are religious, who are feminists and they all believe in her for different reasons. She stands for different things to different people," says Jayawardena.
The exhibition is on at IIC until May 24. Contact: 2461 9431