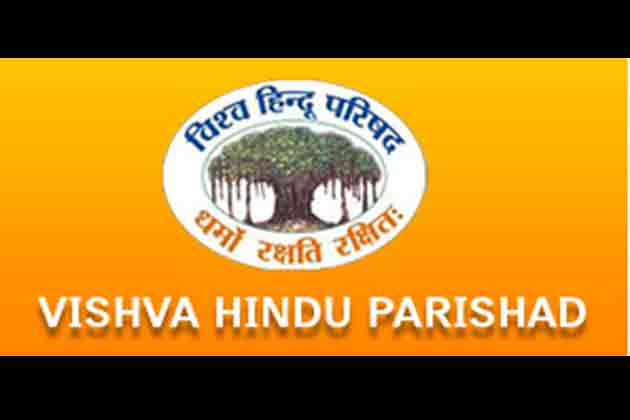 VHP delegation met Hardeep Puri to rebuild Sant Ravidas temple
Representatives of several schools of religion were led by VHP Working President Sri Alok Kumar

New Delhi, October 07, 2019 – A high level delegation of Vishva Hindu Parishad (VHP) headed by the International Working President of VHP Advocate Alok Kumar met Hon'ble Union Minister for Urban Development Shri Hardeep Puri for the cause of reconstruction of Sant Ravidas Temple. The delegation, comprising of senior representatives from Hindu, Sikh, Jain, Buddhist schools of religion, through a memorandum to Shri Puri, demanded that immediate steps should be taken for the reconstruction of the Sant Ravidas temple, appropriate arrangements should be made for regular rituals and worship in it, its holy water bodies should be revived and rejuvenated, and the samadhis be fixed. The delegation asked the Government of India to inform the Hon'ble Supreme Court of India, through the GOI Attorney General, as per the consent of the SCI, about the reconstruction of the temple of Sant Shiromani Ravi Das Ji and thereby respect the feelings of the Hindus of the world.

The memorandum stated that the demolition of this olden temple on the orders of the Hon'ble Supreme Court caused worldwide angst among the devotees and appreciative populace. Lakhs of Hindus participated in the rage under the leadership of revered saints. The entire Hindu society has unwavering faith in Guru Ravidas Ji – a jewel of the Sant Fraternity of Bharat – who mobilized and awakened indigenous Dharma even during the difficult Mughal times.

The memorandum demanded that the temple should be rebuilt soon, there should be a proper system of worship and the pious water bodies (Ponds/Johars) should be revived and the samadhis restored. The memorandum states that on the basis of the consent of the Hon'ble Supreme Court, the government should give its consent to the apex court for reconstruction of the temple through the Attorney General. We believe that this reconstruction of the temple will act as a reference point for renaissance in the entire Indian society.

The members of the delegation also included Mahamandaleshwar Ven. Swami Anubhutanand Ji Maharaj of Sanatan Dharma Pratinidhi Sabha, Ven. Jainacharya Dr. Lokesh Muni Ji Maharaj, Ven. Swami Vivek Nath Ji Maharaj from Valmiki Temple, Ven. Sri Surjit Jatav, Ven. Sri Manoj Kumar and Ven. Sri Dharamveer of Sant Ravidas Vishwa MahaPeeth, Ven. Sant Sri Satwinder Singh Heera from Charan Chho Ganga Tirtha Hoshiarpur, Ven. Swami Shri Veer Singh Hitkari from Rangpur Bulandshahar, Ven. Sri Sukhdev Waghmare, President of All India Vindashiya Dharma Sangathan, Ven. Mahant Shri Om Prakash Gera of 108 Feet Hanuman Temple, Shri Rikhab Chand Jain from Jain Samaj, Sikh Samaj representative Sardar Manjinder Singh Sirsa, MLA, and Arya Samaj representative Shri Vinay Arya, General Secretary, Delhi Arya Pratinidhi Sabha, and apart from this the delegation also included Indraprastha VHP President Shri Kapil Khanna, Working President Sri Vagish Issar and the Secretary Sri Bachchan Singh.

Yours truly
Vinod Bansal
National Spokesperson
Vishva Hindu Parishad
Source: Vishva Hindu Parishad