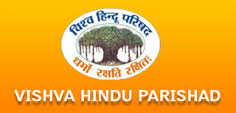 Press Release
Ram Navami Shobha Yatra
New Delhi. March 28, 2015
The procession of Shri Ram Navami was arranged with great zeal under the guidance of Indraprastha Vishwa Hindu Parishad by Hindu Parva Samanvaya Samitee and other religious, cultural, social & educational institutions of Delhi. More than hundred Jhankis (tabloids) & Bhajan Mandalis were decorated by devotees. Jhankis of Bhagwan Shri Ram killing the demons, Swachh Bharat, Yoga & Yagn were worth seeing. Rangoli, 125 welcome gates, five cultural stages performing cultural programes, Durga Vahini girls riding horses and Bajrang dal depicting youth strength were also the points of attraction enroute. Office bearers of different institutions were seen with saffron turban in an open jeep preceded by Shri Hanuman Dhwaja (flag) and followed by well decorated 21 horses and 51 odd bikes with band parties playing Sri Ram Dhun, singing and dancing.
International working president-VHP Dr. Pravin Bhai Togadia, vice president shri Om Prakash Singhal, Swami Raghawanand ji, swami Anubhutanand ji, president of the Hindu Parwa Samanwaya Samitee shri Brij Mohan Sethi, Gen sec. shri Ram Pal Singh Yadav, chairman Sanatan Dharm Pratinidhi Sabha shri Manohar Lal Kumar and other saints and dignatories ignited Lamps to inaugurate the procession.
Speaking on the occasion, Dr Togadia said that nobody in the world could stop us to build glorious temple on the birth place of lord Ram. We are firm on our stand "Mandir vahin, Ayodhya men nai maszid nahin aur Babar ke naam par Bhaarat men kahin nahin"(Temple at the birth place of lord Ram, No new mosque in Ayodhya and No mosque in the name of Babar in anywhere in Bharat). Hindus are waiting for the parliamentary law, which is the only way to build the glorious Ram Temple in Ayodhya, he added. We make "untouchable free Bharat" with the blessings of saints and with the cooperation of the leaders of different casts. The "Swarn Drishti path-2025" recently launched by VHP would prove a mile stone to eliminate untouchability from the country of lord Ram.
The President of Indraprastha Vishwa Hindu Parishad Shri Rikhab Chand Jain, General secretary shri Ram Krishna Srivastava, general secretary of Delhi Sant Mahamandal Mahant shri Naval Kishore das Ji Maharaj, Vivek Shah ji Maharaj, Ram Krishna Das Mahatyagi ji and the state convener of Bajrang Dal shri Neeraj Doneria along with number of Saints, sages and representatives of various organizations have threw light on the incarnation of Bhagwan Shri Ram.
Yatra was started at 2Pm from Ram Leela Maidan and ended at Gangeshwar Dham Karol Bagh. Thousands of People gathered at various places such as Ashafali Road, Dariyaganj, Chandani Chowk, town hall, Bara tuti etc to welcome the Yatra.
REGARDS
VINOD BANSAL
(Spokesperson)
VISHWA HINDU PARISHAD Delhi
M – 98109 49109
ivhpmedia@gmail.com
​PLEASE FIND DOWNLOAD LINK FOR ATTACHED FILE BELOW:​
Source: WHN Media Network