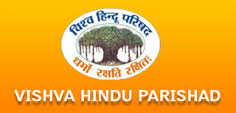 SANGRUR: Launching their new mode of campaign against slaughtering of animals in slaughterhouses, cadres of Vishav Hindu Parishad and Bajrang Dal have begun organizing shows of their 15-minute duration short film, which, they claim, would "educate" rural populace to agitate against mechanical slaughterhouses in the state. 

Sources said that team of around half-a-dozen VHP and Bajrang Dal cadres had organized short-film show in Sherpur town of Sangrur district, on late Thursday evening. On Friday a similar show was organized at Hathan village, located near Sherpur. 

"We are getting good response from masses. Around 100-150 persons saw the film, which we showed at a dharamshala in Sherpur on Thursday evening. Today, our cadres organized show in Hathan village," confirmed Bimal Mittal, Sangrur district president of VHP, adding that 2-3 villages would be covered everyday. 
The film is being showed by Hindu organizations as part of their protest against proposed slaughter house, which is coming up in Ghanauri town of Sherpur block in Sangrur district. 

VHP leaders asserted that the shot film — which contains visuals of slaughtering process filmed at other slaughterhouses – would show masses the "notoriety" involved in slaughtering and educate them to oppose slaughterhouses in the state. 

Mohit Kumar, one of VHP activist who is part of the team organizing film show at Hathan village, said, "Before showing the film, we make announcements from village gurdwara and appeal to people to gather to see the movie. Residents' response is good. Around 150 villagers had seen the movie at Hathan," he added.