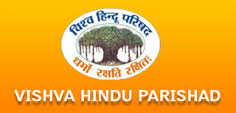 Just a day after Governor Kalyan Singh hinted that he would seek a report from the government on 'love Jihad' issue, Vishav Hindu Parishad (VHP) on Thursday submitted a fresh memorandum to the Governor seeking strengthening of the law to deal with cases of conversions and 'love Jihad'.
Kalyan Singh, currently Governor of Rajasthan, took over as acting Governor of Himachal Pradesh on Wednesday.
Rajni Thakur, who is the state convenor of VHP's women wing — Durga Vahini, led the VHP delegation to Raj Bhavan.
Speaking to reporters after meeting Kalyan Singh, she said: "Governor asked certain specific questions about love jihad and infiltration of Bangladeshi nationals. The meeting lasted for 45 minutes. On Friday, we are meeting him again to provide more details and also submit some data."
In the memorandum, the VHP accused Chief Minister Virbhadra Singh of making misleading statements providing him all details of the love jihad cases, besides information about religious conversions and illegal Bangladeshi nationals living in the state.
"It's strange that the chief minister had assured action and looked convinced, but on Wednesday he forgot everything and blamed the VHP for not giving any details. The governor should sack such a chief minister who doesn't act responsibly on such sensitive matters," Rajini said.
During the meeting with the VHP delegation, Kalyan Singh reportedly inquired about such incidences and also discussed the gravity of the situation.
"Kalyan Singh looked quiet alarmed after looking at the reports and assured that he will certainly do something in the matter so that the peace in the state won't be affected by such cases," Thural said
She made it clear if the state government doesn't come out with concrete measures to enact a new law to deal effectively with cases of love jihad and religious conversions, the VHP will file a PIL in the High Court and ensure that the authorities wake up to the issue.