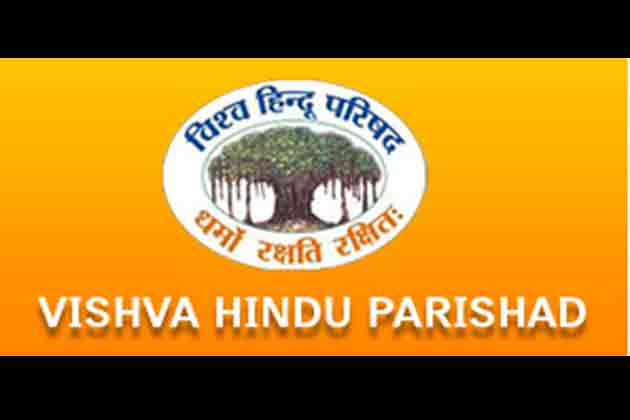 Demanding that Parliament make law for construction of a grand Ram Temple at 'Ramjanmbhoomi' in Ayodhya, the Vishwa Hindu Parishad (VHP) today announced the launch a fresh movement to achieve its objective.VHP rejected the Supreme Court suggestion for resolution of the Ayodhya dispute through dialogue, and said it was high time that Parliament started the process for bringing in a law to build the temple.
Addressing a press conference here, international general secretary of the world Hindu body Dr Praveen Togadia said they would be from next month starting a programme of 'Ram Mandir Nirman Sankalp'(Resolve for construction of Ram temple) at the tehsil and block level to mobilize the masses in favour of the movement. Dr Togadia said the landslide victory of BJP in the UP elections was an ample proof of the VHP ideology. The UP and 2014 Lok Sabha poll results had proved the era of 'development, plus Hindutva' had dawned after 1000 years, closing the chapter of 'anti-Hindutva and non-Hindutva'.
"We want in this era both development and Hindutva. We want farmers loan waiver, jobs for the youth and temple," he said. "There was only one way of building Ram temple, and that goes through Parliament.The way Sardar Patel and Kanhaiyya lal Munshi and President Rajendra Prasad facilitated the construction of Somnath Mandir, construction of Ram temple too should also be facilitated," the VHP leader said. He said the VHP had full faith in the Constitutional process, but the political parties should now gain some wisdom out of the results of the elections and stop ignoring the majority community. He expressed full confidence in the resolve of Narendra Modi Government to fulfill the aspirations of crores of Hindus. Dr Togadia said their fresh movement for the temple would be kickstarted with a rally at the Ramlila maidan here on the occasion of Ramnaumi on April three in which Union Minister for Culture Mahesh Sharma will also participate.
When asked about the next steps of the movement, he said a sant conclave would be held at Haridwar in June to chalk out the future programmes. He reiterated the last dharm Sansad resolution which said that the Ram temple would be built at the 'ramjanm sthal' (birthplace of Ram) and the masjid would be constructed outside Ayodhya.
When asked about his expectations from the Yogi Adityanath government, he said he hoped that the Uttar Pradesh Chief Minister being a disciple of Mahant Avaidyanath, would complete the unfinished work of his 'guru'.