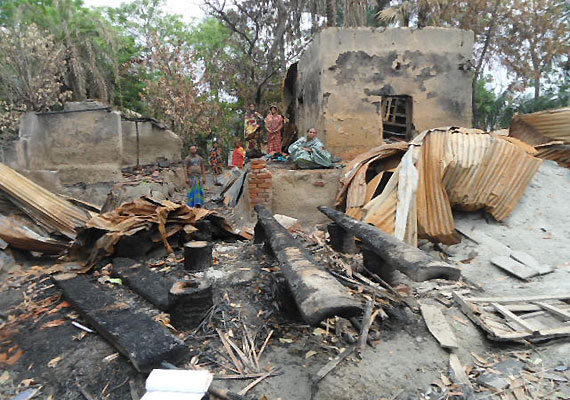 The state unit of the BJP said Wednesday that sustained violence against Hindus in Bangladesh has resulted in the death of innocent lives across the border, but neither the Centre nor the state government have been vocal against such atrocities.
"It is disappointing to see that none from the Congress at the Centre or from the state government in Bengal have spoken against it. These attacks on the minorities must stop," said state BJP president Rahul Sinha.
He said that a seven-member team will visit the Bangladesh High Commission and submit a memorandum Thursday. They will later hold a satyagraha at College Street. "If these don't prod the government then we will start a 'Bangladesh Chalo' movement," he said.
He also came down heavily on the government's decision of shunting Siliguri commissioner K Jayaraman for arresting Malda DM Godala Kiran Kumar.
"It is a classic example of a thief getting rewarded and the police being punished. While the person who is at fault was given bail, the person who stood up against criminal activities had to lose his post," Sinha said, adding that on December 9, BJP will file a petition at the Calcutta High Court appealing for a CBI inquiry into the matter.
Referring to the Left Front boycotting the platinum jubilee celebrations closing ceremony he said, "It is true the Left should have attended the celebrations. However, not inviting former CM Buddhadeb Bhattacharya was discourteous on the part of the government. The present Chief Minister must realise that she was setting a precedent, which might be followed 25 years down the line and at that time she might not remain the CM."