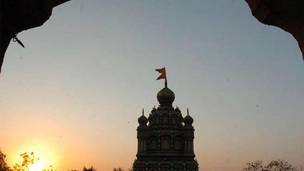 NAGPUR: The Vishwa Hindu Parishad's three-day joint conference of its central managing committee and board of trustees to be held here from December 29 will deliberate, among other issues, on common civil code and Ram temple at Ayodhya. Over 250 VHP representatives form across the country and 10 from oversees will attend the meet.
Announcing this on Tuesday, VHP joint general secretary Surendra Jain said that the organization is concerned about indecision by the government and failure to keep the election promise to build the temple.
"The VHP did play a role in mobilizing people in 2014 general elections, encouraging people to go for voting. The good turnout resulted in BJP' victory," said Jain.
"BJP president Amit Shah had once said Ram temple was a core subject for the party. I wonder how anyone can pass an exam without clearing the core subject," he asked.
The temple was also discussed recently at the Sant Samagam (seers conclave) in the city. Asked if this was just to polarise voters before the UP elections, Jain stressed the temple was a matter of faith and cannot be used as election stunt.
"Modi has this habit of throwing surprises, let's wait and watch," he said.
On common code, he said Babasaheb Ambedkar had supported the uniform laws for all citizens.
VHP president G Raghava Reddy, international working president Dr Pravin Togadia will be present for the three-day meet and the latter will address a public meeting in the city on Dec 30. Organisational matters of the VHP and its affiliate Bajrang Dal will also be discussed.
"VHP functions in 40 divisions in the state and has 42 units abroad," said Jain adding that they currently have 60,000 projects in hand related to education, promoting unity among all Hindus and tribal welfare.