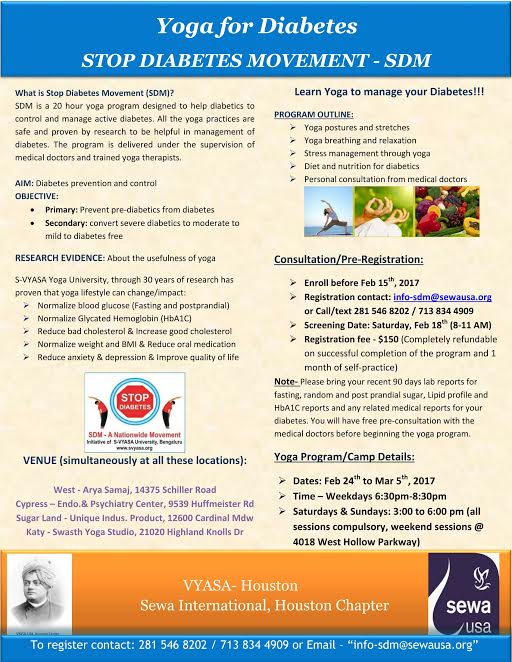 VYASA  & SEWA's Stop Diabetes Movement (SDM) Yoga Camp   
Date: Friday, Feb. 24th to Sunday, Mar 5th, 2017
Time: 6:30 to 8:30 PM weekdays & 3:00 – 6:00 PM weekends
VYASA  & SEWA are conducting yoga camp that is particularly designed for pre diabetic and diabetic people to help them control sugar levels.  It will be held for 10 consecutive days with 1 (one) follow up session based on new format. This camp is completely free of cost, if attended for all 10 days.
For more details please see the attached flyer
Locations:
West – Arya Samaj, 14375 Schiller Road,Houston
Cypress – Endo.& Psychiatry Center, 9539 Huffmeister Rd, Cypress
Sugar Land – Unique Indus. Product, 12600 Cardinal Mdw. Sugar Land
Katy – Swasth Yoga Studio, 21020 Highland Knolls Dr, Katy
(weekend classes will be @ 4018 West Hollow Parkway, Houston)
Keshavsmruti : 4018 westhollow prkwy Houston.
More info at – https://sewausa.org/chapter/ houston/houston-overview
If you have any friends who may be interested in this, do forward this email to them.
Link to register – Yoga for Diabetes Workshop – February 2017
Source: World Hindu News (WHN)