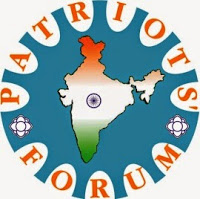 ​Weekly Newsletter of Patriots' Forum – Vol.84 – Patriots Speak​
Dear Enlightened Readers,
• A bad week again! But, some good developments as well:
• Peace deal has been struck over the Ukrainian affairs;
• US invited China and Japan to visit;
• Iran to world powers to finalise nuke deal early;
• Peace may be restored in restive Bangladesh;
• China has deployed key Generals on Ladakh border;
• US President cleared ground engagement with the ISIS;
• Jordan vows to wipe out the ISIS;
• The UAE will also join this "fight";
• Boko Haram increases its cross country operations;
• Nigeria vows to take on Boko Haram;
• Hafeez plans slew of attacks in the valley from Pok;
• Instances of Love Jihad have surfaced in Ladakh;
• India sets up an SIT for 1984 riot case.
• India was world's fastest-growing economy at 7.5 % in October- December, 2014.
Thanking you & with regards,
Yours sincerely,
D.C. Nath
(On behalf of the Patriots' Forum)
84 PF Weekly Newsletter <== Downloadable PDF File
Source: ​Patriot Forum
Disclaimer: The opinions expressed within this article /news /published content are the personal opinions of the submitting author / organization. World Hindu News  is not responsible for the accuracy, completeness, suitability, or validity of any information on this article /news/published content. All information  received is provided on an as-is basis. The information, facts or opinions appearing in the article / news /published content do not reflect the views of World Hindu News and World Hindu News does not assume any responsibility or liability for the same.​