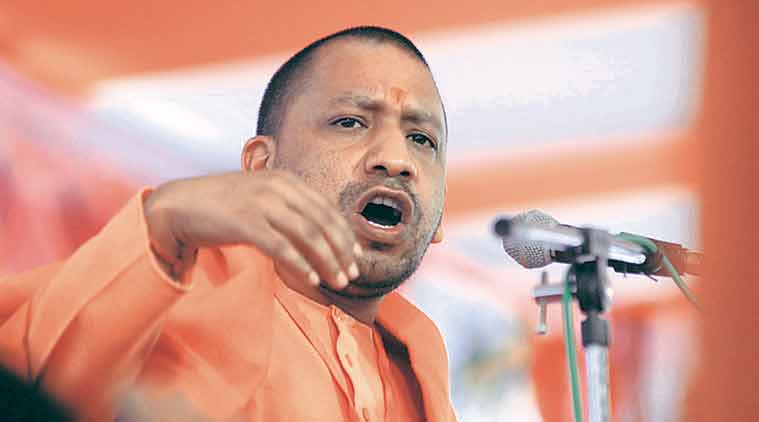 Yogi Aditynath said he would address public meetings in Muzaffarnagar and Kairana. (File Photo)
BJP'S STAR campaigner, Gorakhpur MP Yogi Adityanath, is set to start campaigning from Monday in western UP, where he would raise issues of "exodus" of Hindu families in Kairana and also the Muzaffarnagar riots. When contacted, Adityanath said: "I will address public meetings in Muzaffarnagar, Kairana, Ghaziabad, Shamli, Meerut and other parts of western UP." He confirmed that he would raise issues of Muzaffarnagar riots and "exodus" from Kairana at his rallies. "Kairana, where exodus of Hindus has been a major issue for the last one year and security of women will also be in my agenda," said Adityanath.
WATCH VIDEO | Visuals from Amit Shah rally in Amritsar: 
http://vidshare.indianexpress.com/previews/aZ3ZGaww-xe0BVfqu
A BJP leader associated with the management of rallies to be addressed by the party's star campaigners, said Adityanath would address rallies in Bulandshahr, Dhaulana in Ghaziabad, Loni and Sahibabad on Monday. The next day, he would hold a rally in Muzaffarnagar. "All issues, which would help BJP in the elections, will be raised," the MP said. His first rally is scheduled to be held in Bulandhshar, where a woman and her daughter were gangraped last year.
Adityanath had led the BJP poll campaign during the byelections held on a dozen seats, including four in western UP, in September, 2014. In his rallies, he had then raised the issues of alleged 'love jihad', religious conversion as well as Muzaffarnagar riots. Adityanth, who was in Lucknow on Saturday, shared stage with BJP president Amit Shah, who released the party's manifesto for UP polls.
Asked about his outfit Hindu Yuva Vahini fielding candidates against BJP on 64 seats in eastern UP, Adityanath said: "No one from HYV will contest against BJP… I will only campaign for BJP and if anybody contests against BJP, then his security deposit will be forfeited." On Friday, HYV state president Sunil Singh had released a list of six candidates while alleging that BJP has insulted Adityanath — the founder of the outfit.
Source: http://indianexpress.com/elections/uttar-pradesh-assembly-elections-2017/yogi-adityanath-to-raise-hindu-exodus-4496534/