​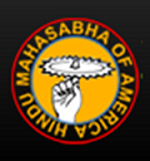 Hindu Mahasabha of America Lauds Indian Home Ministry for proactive relief to Pakistani Hindu Refugees
Hindu Mahasabha of America aka. Hindu Congress of America appreciates steps taken by Hon. Indian PM Narendra Modi and Hon. Indian Home minister Rajnath Singh in bringing reforms for Pakistani Hindu Refugees across India. Recent initiative of Indian Govt. in granting five year Visa to Hindu minorities of Pakistan and Bangladesh is welcoming and reflects the Hon. Indian PM Narendra Modi led NDA Govt. proactive role in assisting Hindu refugees at federal level which includes providing long term Visa and associated work, residence documents.
Hindu Mahasabha of America is a partner organization in PHRRP – Pakistan Hindu refugee relief program http://pakhindurefugeerelief.wordpress.com and has provided financial and logistics support to refugees based in Delhi and Rajasthan. Recent visit of PHRRP director Rahul Chandra at Delhi based Hindu refugee camps provided vital inputs on how Pakistani Hindu refugees are feeling more safe, confident and happy under the Hon. Indian Home minister Rajnath Singh ministry. For example now they are not threatened by local mafia to evict land, more social organizations are coming forward for help, state Govt. is providing temporary land for refugee, provision of Visa extensions and update in citizenship / work permit laws for Hindu refugees. Most importantly there is now a respect for incoming Pakistani Hindu refugees.
Alongside appreciation for Pakistan Hindu refugee's relief, Hindu Mahasabha of America also seeks early deportation of est. 20 million Muslim refugees from Bangladesh from India whose presence in India is leading to criminal activities, job grabbing and terror / anti-India activities and are a big burden on India resources and tax payer money.
Media PR Department
Hindu Mahasabha of America
Source: HMSA