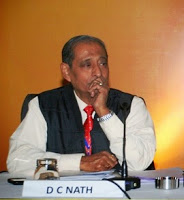 President of Patriots Forum, D.C. Nath was superannuated in January, 1995, as the Special Director, Intelligence Bureau, D.C. Nath (IPS-1960) was associated with the International Institute of Security and Safety Management (IISSM), headquartered in New Delhi, for over 14 years, first as the Executive President & CEO and then as the President & Director General, between February, 1997 and March, 2011. The author of a highly acclaimed book, Intelligence Imperatives for India, Mr. Nath earned high plaudits from all around for two of his very significant presentations on: "Revisiting the Future of India" (2005, London) and "Lessons from India for the War On Terrorism" (2007, USA). He is the only one in the field, combining the experiences of a police officer with specialization in intelligence and strategic analysis and an industrial security expert par excellence. More Bio on D. C. Nath…
OPINION>>>>
June 6, 2015
Dear Friends,
Subject:
​​​​A Call To The Youth Of India
What we have said in the title is indeed too big a task for average men like us to attempt, much less to speak of accomplishing. It so happened during the course of discussion among friends on what all we have been trying to do, it clearly emerged we needed to do much more on the youth front in India. At least, to tell them what they needed to do for the cause of the nation. Even with making the points in bullet-point format, it has not been possible to make the appeal brief.
Since we are on this subject, we cannot do anything better than start off with what the greatest son of India, Swami Vivekananda, wanted all to become, "fierce patriots". He also thundered, "Arise, Awake and Stop Not till Thy Goal Is Achieved". In this case, it will have only one meaning, "Save India, Save the Motherland".
History all over the ages in all countries has, by and large, shown that the youth have always led the way in which way the country had moved. We have read, our ancestors have read and you too have read, "The child is the father of the nation."
So, Dear Young Friends,
Even if you are busy, we make this appeal to you in simple terms. This is no attempt to pontificating to you or philosophising to you in any abstract terms. We just intend to sensitize you to the threats facing the country. In order to help you muster the situation in quick time, we propose to raise questions/make some points before you, not to test your knowledge but to assist you in the process. The questions/points relate to the dangers before the country.
1) How much are you aware of the intensity and the spread of the threat of international terrorism to India, being led by its latest incarnation it the form of the ISIS or the simple Islamic State? They are proving themselves "true enemies of mankind",out to destroy human heritage and change history, as a magazine has rightly said.
2) Do you know India is the only Hindu majority (till now) standing, as the Islamists feel, on the way between Turkey in the West and Malaysia in the East?
3) Have you assessed the threat to India from the "famed" ISI (Inter Services Intelligence) of Pakistan, which has vowed to bleed India through "thousand cuts"?
4) Are you aware that an important Maulana from UP had, on the unilateral declaration of the Islamic Caliphate, in June, 2014, promised to the King of Saudi Arabia to raise a volunteer force 50,000 Shia volunteers towards the formation of a world "jihadi force"?
5) Are you aware that whereas the ISIS have recently made their footprint in Pakistan in the West, Al Qaeda has stationed itself in Bangladesh in the East—thanks to the Jamaat's deep penetration into that country for some years now? So, India is caught in a pincer.
6) In that backdrop, are you aware that the overall priority in the Islamist thought process in West Bengal and Bangladesh is the restoration of the Islamic Caliphate in the Indian sub-continent, commencing from the East? Further expansion of this to the rest of India is a matter of time only.
7) Do you know that the ISIS have recently warned of taking 'jihad" to India by recruiting Indian youth, who would be useful in the main field of their operation in the Middle East?
8) Are you aware there now seems to be a stiff competition between Kerala and West Bengal as to which of them will go the Kashmir way first? West Bengal seems to have the edge with the Chief Minister having converted herself into Islam and promoting the Muslim interest unabashedly. Our assessment has, therefore, been "Save West Bengal To Save India, Despite Mamata Banerjee."
9) How much are you aware of the motivation behind Mamata Banerjee suddenly planning for an international Islamic event in Kolkata on May 29,30 and 31,2015,in collaboration with the Urdu Academy of the State, to honour the 'ideological father of the two nation theory ("separate land for Muslims") and the national poet of Pakistan, namely, Mohammad Iqbal? People believe it is to win back the Muslims of West Bengal, now showing distinct signs of moving away from her.
10) Are you aware that recently a fresh report says that the Hindus are fast diminishing in West Bengal?
11) Do you know that the newly formed State of Telengana has joined the race? In an apparent move to appease the Muslim community, it declared Urdu as the official language of the State.
12) How much are you aware of the significant security implications of the illegal Muslim immigration from Bangladesh, for which neither the Centre nor the concerned State governments have evolved any standard policy and this illegal immigration has still being continuing? In the absence of any formal/official figure, the guest-estimate of such immigrants, now spread all over the country, is around 5 millions or more.
13) Are you aware that according to a usually reliable channel of information, a section of the Islamic clergy and their lay allies are planning for a suitable legal and political framework in West Bengal (read by extension to the rest of India) that would be in consonance with Islamic theology, that is, to be guided by the omnipotent Sharia law?
14) How much are you seized with the extremely serious existential threat from the imbalance in demographic composition in India that has led serious researches to conclude that the currently majority Hindu community would be marginalised into minority group in India by around 2070 or so?
15) Does this threat not get more compounded when read against the passion or duty of the two Abrahamic religions, namely, Christianity and Islam, to convert the Hindus, especially the poor among them and the tribal in remote villages? Means are of no consequence to them. The vast expanse of the north-eastern India is a standing example of the virility of the Christian missionaries in this field.
16) Do you know the real threat behind what you have been hearing about "love Jihad"? It is after all a jihad, that enjoins on every Muslim to convert non-believers to their faith. And, this time it is "through the womb". For performing this act of jihad, Muslim youths are paid money to play the role of lovers. Marry the non-Muslim girl, produce children through her and then you can give her talaq. This practice of deception is called "taqqiya".
17) How much are you aware why the Maoist problem is not coming under control? It is no longer an ideology-driven movement. The poor tribals, constituting the bulk of the Maoist bench-strength, are victims of exploitation by a close nexus of corporate world, local politicians and the police. So, they fight for survival.
18) Are you aware how much damage some well-known Muslim leaders are causing to maintaining communal peace in the country? They are going scot-free when some of their public utterances would normally attract charges of treason and blasphemy? The unlimited freedom of speech being enjoyed by them is beyond imagination. Specific cases are on record. Looking at it in another way, they are radicalising as well as communalising the average Muslim minds—a growing threat taking shape inside the country.
19) Are you aware how much threat is being posed by the number of mosques and madrassas created in the last decade or so all along the Indo-Nepal border? They are ideally located to harbour and give shelter to fugitives like marked terrorists and are also easy conduits for illegal money transfer, including counterfeit money. Incidentally, India has the highest number of mosques around (400000) in the world, exceeding the number mosques in muslim countries.
20) Are you aware what damage is being caused to national integrity and public exchequer on account of huge financial doles continued to be given to the minorities under the cover of the Sachar Committee report, which is ab initio invalid constitutionally and when a legal suit against this Committee is awaiting hearing in the Supreme Court?
21) How much are you aware of the serious threat to the security of the nation being posed by the so-called learning institutions for the Muslims, known as the "madrassas", whose number by an elementary assessment, would not be less than several lakhs? This is primarily because any house can be treated as a madrassa. The October 2, 2014, incident in Burdwan district of West Bengal made it public that many of these madrassas are nothing short of "terror breeding" factories. Many of them are also being financed by the notorious Jamaat elements from across the border of Bangladesh, apart from the known grants from Saudi Arabia.
22) Will you be aware how many Pakistanis, having entered India lawfully, have not gone back and are missing in India for many years and so what serious threat such missing Muslims are posing to the country? An identified big enemy is better than a small but hidden source of threat.
23) Will you believe a great source of threat to the nation is a section of its own citizens? They are the so-called middle-class intelligentsia among the majority community. The vast majority among them are apparently selfish or self-centric, which gets exposed in times of crisis. A known inimmical element is much better than such hidden "traitors", though this may sound like condemning them.
24) How much do you think India becomes vulnerable to external attacks due to lack of unity among the majority community, namely, the Hindus? "Unity in diversity" is good in books. In effect, "Jaichands" and "Mir Zaffars" have played havoc with the nation's fortune.
25) Do you know another reason for weakness could be related to the lack of conviction and determination in character on the part of the Hindu majority? The vast majority among them are non-religious, on account of which we have urged them to be "True Hindus", who should not be afraid to fight against "adharma" to protect 'dharma", as advised by Lord Krishna in the holy Gita.
We have detailed information on all the aspects pointed out in the note. Should any one be interested in details in any one or more specific areas covered, we shall be happy to share what all we have or let you know where you can get more information on one-to-one basis.
Dear, Friends, we shall take this time and opportunity to plead before you to raise the appropriate voice before the Hindu Acharyas and Gurus, who hold a lot of respect before their chelas (sishyas). Dear Sisters and Brothers of Hindusthan, you may have to take it head on and build up enough pressure on these respected societal leaders to iron out existential inter-community differences and build up a united Hindu front from the present ruins of divided and subdivided framework of the Hindu society. They be urged upon to do whatever is warranted by the circumstances to unite this "unfortunate" society. This ought to be a MUST DO for them.
This is the time for making sacrifices. Great and historic men like Guru Govind Singh,Guru Teg Bahadur Singh underwent inhuman torture and punishment and finally sacrificed their lives but never gave up their religion. That led Swami Vivekananda to say,"All of you will have to become Guru Govind Singh to save the country."
We are confident some amongst you will play such important roles most satisfactorily. The nation needs that and has high hopes on you. As it is said, the past belongs to the wise, the future belongs to the learners. And, also, do not forget those immortal words of Robert Schuller in his book, "Tough Time Never Lasts But Toughmen Do", "Nobody is born for nothing. Every one has been born to do some thing, because God has no time to create nobody".
Dear Sisters, we have a specific appeal to you. As we see it,you have a special role to play to save the nation. It has been true in all ages and in all countries. You are rolled into both mothers and sisters and you form almost 50 per cent of the population. How can a nation save itself from various external and internal threats without your active support? Swami Vivekananda was clear in his views that one of the reasons for India lagging behind many advanced countries in the West was that "Stree Shakti in India is not given its due." This position will have to be reversed soon.
Friends, leaving all this aside, the main point is: You will have to save the beleaured nation, Bharatmata. And, in this, SUCCEED YOU MUST.FAILURE IS NO OPTION FOR YOU.
Always with you,
Dhanesh Nath
Source: Patriot Forum
Disclaimer: The opinions expressed within this article /news /published content are the personal opinions of the submitting author / organization. World Hindu News  is not responsible for the accuracy, completeness, suitability, or validity of any information on this article /news/published content. All information  received is provided on an as-is basis. The information, facts or opinions appearing in the article / news /published content do not reflect the views of World Hindu News and World Hindu News does not assume any responsibility or liability for the same.