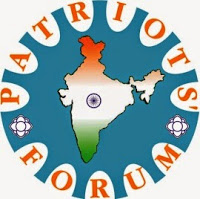 Dear Enlightened Readers,
There are no indications of any improvement in the overall geopolitical scenario:
·         China warns India on the later's plan for building roads along the International border;
·         Gulf countries plan raising joint Naval Force;
·         ISIS continued slaying–executed 12 persons in Iraq;
·         Pakistan continued LoC violations;
·         The UN rebuffed Pakistan for its request to revive the Kashmir issue;
·         Hong Kong remains unsettled- the protestors not responding to peace talks;
·         Marxists in India bringing women cadre to combat role;
·         ISIS flags hoisted in Srinagar-serious implications;
·         Police casualty at miscreants' hand in Delhi has been three so far this month;
·         Wholesale price index becomes low;
·         Hinduism Encyclopedia launched;
·         Indian boy becomes world mental math champion.
Thanking you & with regards,
Yours sincerely,
D.C. Nath
(On behalf of the Patriots' Forum)
Wholesale price index becomes low;
(On behalf of the Patriots' Forum)
+919811995693
LoC Hots Up Again: India retaliates to Pak firing at Poonch. This happened on October 11, 2014.
(All Press, October 12, 2014) Putin Orders Ukraine Pullback: The Russian President ordered this on Saturday ahead of diplomatic talks on bringing peace in the area.         (AFP, The Asian Age, October 13, 2014)
Pak at It Again—Targets 15 Indian Post, Seeks UN Intervention: This started on Thursday in Arnia sector of Jammu and Kashmir.     (All Press, October 13, 2014)
Turkey Denies Deal For Base With US: This is a somewhat set-back in the proposed coalition.
(AFP, The Asian Age, October 14, 2014)
New Zealand To Tighten Terror Laws: This is primarily to take action against war-experienced returnees.
(AFP, The Asian Age, October 14, 2014) UN Snubs Pak, Says Kashmir is a Biltateral Issue, Won't Interfere: This was on October 14, 2014.
(All Press, October 15, 2014) Coalition Commanders Planning To Counter ISIS Advance: They are scheduled to meet at Washington.
(Agence France Presse, The Statesman, October 15, 2014) China Unhappy over India's Proposed Border Road, Warns India: "India should not complicate the situation", said
China on Wednesday.                                                                                                      (All Press, October 16, 2014)
BSF Pounds Terrorists Waiting to Infiltrate, Pushes Them Back: Terrorists are making a desperate attempt to enter
India before the winter sets in.                                                                         (The Hindustan Times, October 16, 2014)
Snubbed by UN, But Islamabad Still at It: Trying to internationalise the Kashmir issue again. On Tuesday, it briefed the entire diplomatic corps in Islamabad about the LoC situation, adding that the credibility of the UN was at stake over the
Jammu and Kashmir issue.                                                                                 (The Times of India, October 16, 2014)
Finland Bats for India's Security Council Berth: This was announced during Indian President's visit to the country.
(The Times of India, October 16, 2014) Gulf States Mull Joint Naval Force: A senior Kuwaiti defence official on Wednesday. The six countries are: Baharain, Kuwait, Oman, Qatar, Saudi Arabia and the United Arab Emirates.
(AFP, The Asian Age, October 16, 2014)
ISIS Publicly Executes Scribe,12 Others In Iraq: They reportedly did so for the victims refusing to act for the ISIS.
(All Press, October 11, 2014) City Mayor Warns Of Terror Suspects On London Streets: The terror level has been raised and policemen have been further suitably advised for remaining alert, according to The Telegraph, says a PTI report.
(The Statesman, October 12, 2014) Suicide Bombers Kill 28 Kurds, Police Chief Assassinates was by suspected ISIS bombers on October 12, 2014.
(The Indian Express, October 13, 2014) ISIS Boasts Of Enslaving Yazidi Women And Children: They boasted they have revived it as per Sharia law.
(Agence France-Presse, All Press, October 14, 2014) Al Qaeda May Target Nepali Politicians, Delhi Warns Kathmandu: It has been added that IM may assist.
(The Hindustan Times, October 14, 2014) Pak Taliban's Top 6 Leaders Pledge ISIS Allegiance: This came in a video release on October 14, 2014.
(The Times of India, October 15, 2014) NSG Warns Of Queda Hit Along With LeT, ISIS, Indian Mujahideen: But, this has made the Centre red-faced.
Normally, such alerts are issued by the Ministry (MHA) or by the IB.                                   (All Press, October 17, 2014)
PM's Address at the Combined Commanders Conference: Prime Minister said that India`s Armed Forces, which represent the world`s largest democracy, were second to none in professionalism, valour, commitment, service and duty.
http://www.security-risks.com/security-trends-south-asia/india-defence/pms-address-at-the-combined-commandersconference-3677.html India Conducts Successful Flight Trial of 'Nirbhay' Sub-Sonic Cruise Missile: India`s first indigenously designed and developed long range sub-sonic cruise missile 'Nirbhay' was successfully flight tested.
http://www.security-risks.com/security-issues-south-asia/missiles/india-conducts-successful-flight-trial-of-nirbhay-subsonic-cruise-missile-3679.html Israeli Prime Minister Invites India To National Cyber Defence Authority: It is a dedicated force for fighting cyber threats. He had conveyed this to the Indian Prime Minister in the course of their recent visit to the US.
(Security Today-e News, October 10, 2014)
Review of Islamic State Terrorists Training and Potential: Ambassador K Gajendra Singh reviews capability build up of the ISIS and says must never forget that what is happening in the deserts of eastern Syria and north-west Iraq and elsewhere in the region is nothing but part of a getting hotter Cold War between U.S.-led West and Russia's Putin, with China, Iran, and many other countries on his side, so far covertly.
http://www.security-risks.com/security-issues-south-asia/terrorism/review-of-islamic-state-terrorists-training-and-potential-
3667.html Rebel Elements Unfurl ISIS Flags in Srinagar (outside Jamia Masjid) After Friday Prayer: The GoC, 15 corps said "This is a matter of deep concern." (Times of India, October 12, 2014)
Female Maoists Get Combat Role: This is a radical change, possibly to compensate loss of men cadre.
(The Asian Age, October 14, 2014) How the ISIS and AQIS will Expand Profile in Rest of Indian Sub Continent? Presently the profile of ISIS and AQIS in the Indian Subcontinent remains very low, but it can expand rapidly by induction and recruitment or through the classic merger, acquisition, franchisee mode http://www.slideshare.net/RahulBhonsle/how-isis-and-aqis-expand-in-indian-sub-continent
Another Policeman Killed on Duty: Criminals' Fear Of Delhi Police on Wane! This is the third attack on policeman this month.  (All Press, October 14, 2014)
WPI (wholesale price index) Inflation At 5-year Low: It was 2.38 in September, 2014, compared to 3.74 for the previous month and 7.05 per-cents during the corresponding period of the last year. (All Press, October 15, 2014)
Indian's Own GPS? In the Making: Indian Regional Navigation Satellite System (IRNSS) Programme. PSLV-C26 Successfully Launches India's Third Navigation Satellite IRNSS-1C .
http://www.security-risks.com/security-issues-south-asia/iw-cyber-security/indian-regional-navigation-satellite-systemirnss-programme-3672.html Hinduism Encyclopaedia Launched: This was on 0ctober 10, 2014, at New Delhi. The book was conceived of 25 years ago by Swami Chidananda Saraswati. It is an 11-volume project involving 1000 contributions on religion.
(The Hindustan Times, October, 11, 2014) Hong Kong – Democracy Protesters Appeal To Chinese President: In an open letter dated 0ctober 11,2014, they complained against the Chief Executive of Hong Kong for manipulating "Hong Kong people's genuine wishes." (
NYT, The Indian Express, October 13, 2014)
Outstanding Patriotism: When foreigners are offered a permanent job at NASA, the condition is that they should apply for and get a US Citizenship. Arun. P.V. who hails from from Manimala in Kerala, got an invitation from the American space research center NASA to work as scientist there. He had completed his M.Tech from Bhopal NIT and after a stint at the renowned Bhabha Atomic Research Center, he completed a PhD at the Masachussetts Institute of Technology. While at the MIT, NASA Extended the invitation. Arun joined work on a fixed term contract.His exceptional caliber and genius led to an offer of a permanent position at NASA.
All other candidates who were invited by NASA for a permanent position, accepted US Citizenship, and
joined NASA. However, Arun was adamant that he would not give up his Indian Citizenship for the job. His stand was that if that was the condition, he was more than willing to forego the offer from NASA. He informed NASA that he was willing to quit and return to India if his condition was not acceptable by NASA.
NASA and the US Government must have been very impressed by his patriotism as well as his scientific caliber from what happened afterwards. Arun, a very junior scientist, was included in a high level science and technology co-operation delegation from the US to India that arrived two weeks ago. It was renowned computer scientist Dr. Barbara Liskov, who was also on the delegation, who informed Home minister Rajnath Singh about the courageously patriotic stand that Arun had taken.
Rajnath Singh updated PM Narendra Modi about this, and the PM invited Arun to his official residence for a half hour chat. He told Arun that the doors to the Indian Space research programme will forever be open to him.
We Salute the patriotism of this True Indian. Hats off to you, Arun!
Dhanteras: Hindi : धनतरे स, Sanskrit/Marathi : ) is the first day of the five-day Diwali Festival as celebrated in India. The festival, known as "Dhanatrayodashi" or "Dhanvantari Trayodashi".The word Dhan means wealth and Teras means 13th day as per Hindu calendar. It is celebrated on the thirteenth lunar day of Krishna paksha (dark fortnight) in the Hindu calendar month of Ashwin. On Dhanteras, Goddess Lakshmi is worshiped to provide prosperity and well being. Dhanteras holds special significance for the business community due to the customary purchases of precious metals on this day.
Even when we take care to send our newsletters to only those who are interested in receiving them, we apologise for disturbing you, should you not be interested in our patriotic initiative. Kindly send blank e-mail to sbtyagi1958@gmail.com with 'Unsubscribe, written in subject block. We will do the needful immediately.
Source: ​Patriot Forum
Disclaimer: The opinions expressed within this article /news /published content are the personal opinions of the submitting author / organization. World Hindu News  is not responsible for the accuracy, completeness, suitability, or validity of any information on this article /news/published content. All information  received is provided on an as-is basis. The information, facts or opinions appearing in the article / news /published content do not reflect the views of World Hindu News and World Hindu News does not assume any responsibility or liability for the same.​