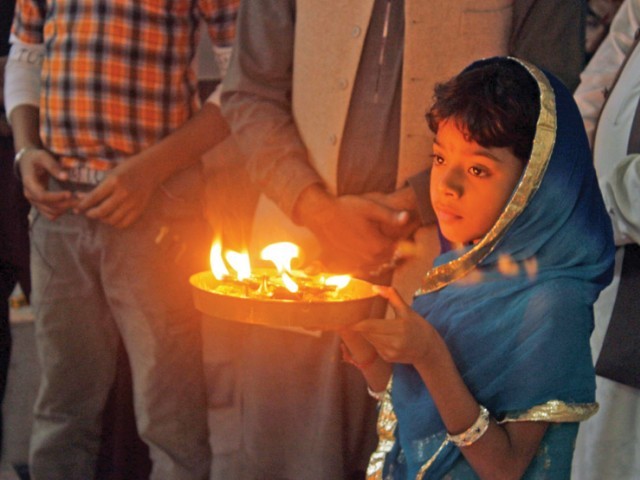 PESHAWAR: Like other parts of the country, Hindus in the city have been celebrating the five-day festival of Diwali since late Wednesday night.
On Friday, a colourful gathering was held at the Kohati residence of Haroon Sarabdiyal, the chairman of All Pakistan Hindu Rights Movement. Civil society activists and Hindus at large were part of the festivities.
The central hall where the event was held was aglow, lined with diyas and strings of marigold. The evening was packed with entertainment. After the initial pooja in which participants lit candles and made offerings of sweets, a small concert of sorts showcased Pashto and Urdu songs advocating peace and harmony. Grownups and children could be seen with sparklers and watching fireworks.
At the cake-cutting ceremony, Sarabdiyal wished everyone a Happy Diwali and thanked people of other faiths for joining them at the joyous occasion. "Diwali aims at enabling strong community bonds where everyone is empathetic to each other's problems and hardships and each other's good times."
Relegated to the margin
He reminded the gathering that Hindus living in Pakistan are citizens by birth but are being neglected and deprived of their due rights, criticising successive governments for failing to safeguard socio-political and religious rights of non-Muslims. "Personal and communal properties of Hindus across K-P have been occupied by the mafia," said Sarabdiyal.
"In DI Khan, a Hindu temple is being used for commercial purposes, while another temple is being used by education officials as a workplace in Nowshera." Sarabdiyal urged the government to take steps to rectify this.
Shahida Shah of South Asia Partnership Pakistan's Peshawar chapter also addressed the guests, wishing them happiness on the festival of lights which in addition to venerating the gods also celebrates the harvest season.
"People from different religions and faiths needs to join each other in such celebrations," she said. "Regretfully, since the inception of the country, a particular mindset has monopolised almost all the state organs and has promoted religious disharmony."
This, she believed, has contributed to the violence and injustice against non-Muslims. She urged people from all over the country to take unanimous steps to address the sense of deprivation and insecurity felt by all non-Muslims.