PR and Media representative Sameer Savani, from Shree Swaminarayan Mandir London, writes about the celebration of the Hindu New Year and explains the true meaning behind the special day.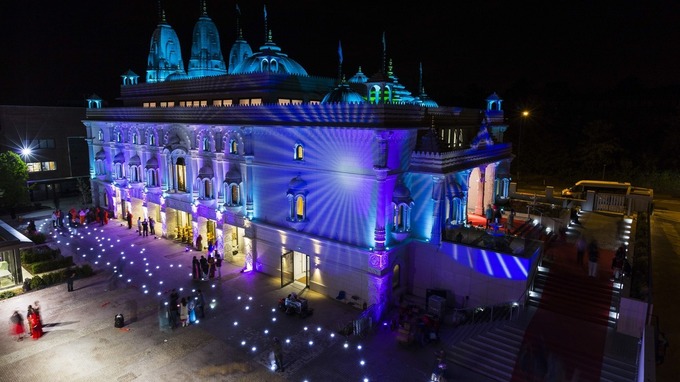 The Mandir in Kingsbury is where the celebration will be held.
The Hindu New Year falls on Friday October 24 this year, and along with the preceding week that includes Diwali (festival of lights), it is a time of huge significance and celebration for Hindus all over the world.

Here at Shree Swaminarayan Mandir Kingsbury, it will be our first such festive period since we opened this unique "eco-temple" earlier this year in August.
Boris Johnson visited the temple to celebrate its grand opening.
There is much anticipation and excitement building.
Diwali and New Year have always been marked in a unique way from our community.
Over the past 30 years at our previous home in Golders Green, we created special events for our friends and neighbours so they too could join in with our festivities.
Inside the Shree Swaminarayan Mandir in Kingsbury is a shrine leafed in pure gold.
This year (Samvat 2071) we are expecting record numbers to join us, and they too will be treated to an equally wonderful show of music, dance, colour and spirituality – including a unique fusion of Scottish bagpipes and Indian dhol drums!

A unique fusion of Scottish bagpipes and Indian dhol drums will feature in this year's celebration.
There will be something for all the family with the highlight being our centre piece, the 'Annakut' or 'mountain of food'.
This is a magnificent display of hundreds of pure vegetarian dishes arranged in spectacular style before the Lord.

The first Annukut during the Grand Opening ceremony- expected to be even bigger for New Year.
The festival of Light, Diwali, traditionally falls on the darkest night of the darkest period – the New Moon of the Hindu month of 'Aso'.
Diwali and the New Year (first light of the waxing moon) are symbolic, purely and simply, as the triumph of good over evil – light over darkness.
The popular story of Lord Rama's long-awaited return after fourteen years of exile, and his victory over the demon Ravana, is just one of many such stories of deities defeating demons.

Effigies of the Demon Ravana are often burned to symbolise the triumph of good over evil.
Jeevanpran Shree Muktajeevan Swamibapa teaches us that such stories, legends and mythologies – from any faith – have the same underlying philosophy – the triumph of good over evil.
He further enlightens us: "Evil doesn't necessarily have horns and tails like demons, and so isn't always apparent. We have demons within us – arrogance, lust, anger, envy, pride, ignorance etc. These should be treated as our enemies and must be defeated through one's devotion to God."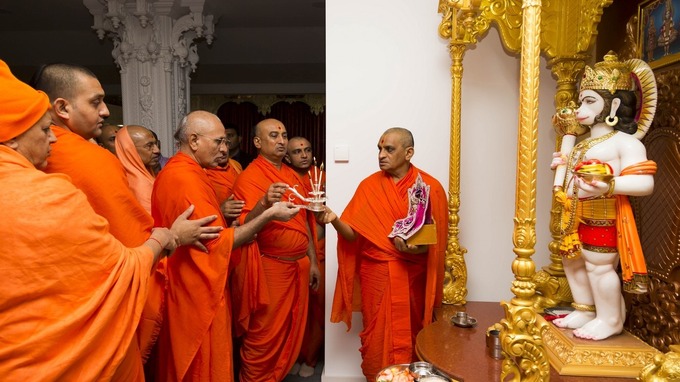 The Hindu New Year is a time for new beginnings, for forgiveness and looking forward with optimism.
Jeevanpran Swamibapa has taught us that the true purpose of the Diwali period is to evaluate the extent to which we have overcome such 'internal enemies' and reenergise that battle over them so that we may be better people in the year ahead.
And with that in mind, the Hindu New Year is a time for new beginnings, for forgiveness and looking forward with optimism.
It is a time for people to gather in temples and rekindle relationships with not only their friends and family, but also with God.

The Hindu New Year is a time for people to gather in temples and rekindle their relationships with God.
Shree Swaminarayan Mandir Kingsbury is just one of over 170 such centres around the world, operating under the auspices of Maninagar Shree Swaminarayan Gadi Sansthan – led by Acharya Swamishree Maharaj.
He encourages us to put society before oneself and teaches us that "Dedicating one's life to the service of others is the truest celebration of a festival."

Acharya Swamishree Maharaj with guests (local MP, Barry Gardener and Chair of the Home Affairs Select Committee, Keith Vaz, MP).
So, it is by His inspiration that our Diwali and New Year celebrations do not conclude until Sunday 26 October with a Blood Donation session at the Mandir.
We have encouraged the surrounding community to 'do something amazing' amidst the food and festivities and potentially save lives.

Celebrations of the Hindu festival take place in the temple based in Kingsbury.
With 'Swaminarayan' being one of most progressive faiths in the world, Acharya Swamishree Maharaj espouses a very modern interpretation of these ancient Hindu values:
Spiritual Prosperity is gained not only through traditional devotion, but also through being good human beings by showing decency to others and serving society.
These are the true values of Diwali and New Year celebrations – values that we are keen to share with the wider community.