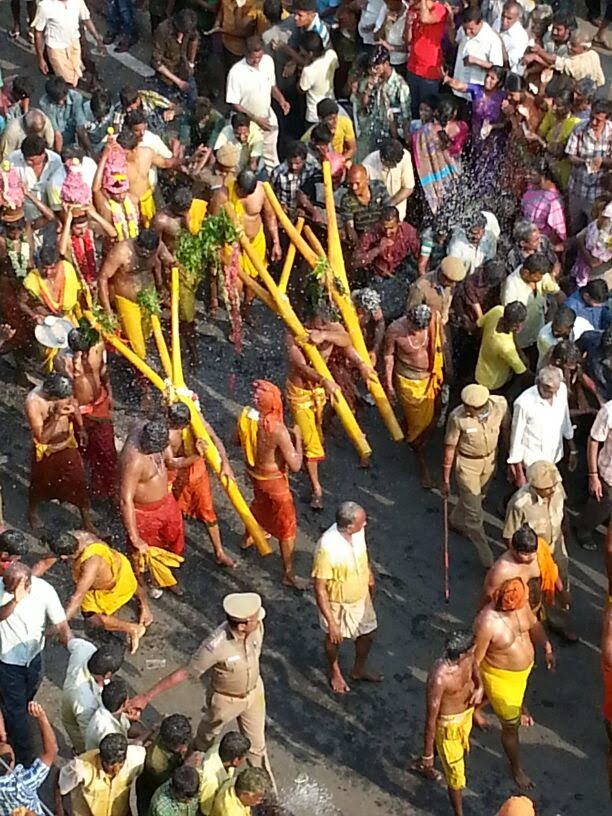 Q: There is a perception that the DMK criticises Hinduism more than other religions….
A: That popular perception about the DMK you are stating is false. Our idea is that all religions should be treated equally. In fact, 90 per cent of those in the DMK belong to the religion you mentioned.
The above question and answer is from an interview of DMK Chief M Karunanidhi carried by 'The Hindu' on April 5, 2015.  Though the nonagenarian atheist fights shy of mentioning the word 'Hindu' the cat is out of the bag.  Obviously to appease his Hindu partymen Karunanidhi is all set to write a serial on Saint Ramanuja, the reformist Vaishnavite Seer for a TV Channel.  Earlier also Karunanidhi refused to tow the line of its mentor DK in the instance of April 14, Mangalsutra vilifying demonstration of DK. 
Full Interview: http://www.thehindu.com/todays-paper/tp-national/dmk-against-fundamentalists-not-hindus/article7069222.ece
Another terrorist nabbed
Suresh Kumar, Hindu Munnani functionary, used to take up the cause of Hindus irrespective of caste and campaigned against selling land that once belonged to Mannurpet Perumal (Vishnu) Temple to non-Hindus.  Such a person was murdered in cold blood by a jihadi hit squad on June 18, 2014.  Abdullah alias Abdul Muthaleef, the banned Al-Umma member masterminded and backed the hit squad was nabbed by police on April 3. Abdullah had earlier floated 'Muslim Defence Force' in 2002.
       Hindus hit the road to take back temple land
A huge gathering of 2000 persons of the public witnessed on April 2 an unusual happening in Erode. Nearly 400 women devotees of Periya Mariamman (kali) the Grama Devata of Erode assembled in front of the temple in the heart of the city with the declared purpose of cooking Pongal to be offered to the deity. They were arrested. The ladies were accompanied by 500 men folk all of them belonging to the 'Movement for Retrieving Periya Mariyamman Temple Land'. Earlier, the devotees submitted a memorandum to the District Collector demanding the handover of temple land measuring 12.66 acres usurped by Church of South India (CSI) during British regime in 1905.  The Movement has established that the land now used by CSI is in fact Government land; this is based on official land records. (Meanwhile CSI has gone to Court and the Movement also has got itself impleaded in the case).