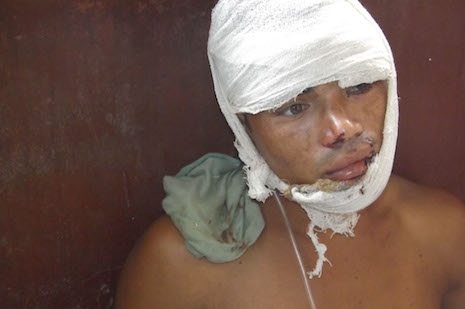 A Hindu man injured in the recent attack in Thakurgaon district is seen here after receiving treatment in hospital (Photo by Antuni David)
Dozens of Hindu villagers fled their homes in Bangladesh on Friday after an armed mob, with supposed links to a ruling party lawmaker, allegedly attacked them in northern Thakurgaon district.
At least ten people, from four villages, were injured and hospitalized after about 50 armed men allegedly linked to Awami League parliamentarian Dabirul Islam attacked them, several of the victims said.  
The attacks were to force them from their homes and agricultural land so the Ranbag Islami Tea Estate Company owned by the MP could grab everything, they claimed.
"The MP wants to grab our lands for the tea estate. Earlier, his men threatened to evict us from our homes if we didn't move willingly," said Ketu Singh, 40, a farmer and one of the victims.
"If he offered us a good price for our properties, we could have agreed. We can't offer them freely and become penniless," he said.
Bhagaram, 42, another farmer, said police refused to file a case against the attackers.
"Police don't want to listen to complaints because these men are supporters of the ruling party and the MP," he said.
Aminul Islam, officer in-charge of Baliadangi police station denied the allegations.
"No one came to us to file any complaint regarding eviction or torture. If there were any we could have taken action immediately," Islam said.
Mukesh Chandra Biswas, a Hindu, and the chief government officer in Thakurgaon, said the administration would take steps to compensate victims and take action against the attackers.
The MP, Dabirul Islam, denied the allegations, calling them an attempt to discredit him.
"I love all people irrespective of caste and creed. People also love me. My party wants to make me a minister, but an envious, vested quarter is spreading malicious rumors to malign my reputation," he said.