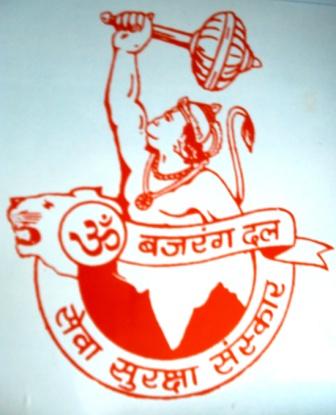 Agra: With BJP coming to power in Uttar Pradesh, right wing Hindu outfit Bajrang Dal is now planning to expand its base by organizing training camps to attract the youth to join its ranks. The efforts are already showing results as the turnout at the camps has doubled in many districts of Uttar Pradesh.
Bajrang Dal, an outfit of the Vishwa Hindu Parishad, is organizing seven–day camps in six regions of the state, including Firozabad (Braj region), in which "army style" training is being imparted. Other camps are being conducted in Hardoi (Avadh region), Moradabad (Bareilly region), Mahoba (Kanpur region), Maharajganj (Gorakhpur division), Bhadohi (Kashi region).
In Braj region alone, the number of youngsters who have signed up and are attending the camp has gone up from 240 last year to nearly 400 this year. Admitting that the youth are showing more enthusiasm in attending the camps than last year, Bajrang Dal's UP and Uttarakhand coordinator Surendra Mishra said while a surge has been witnessed across UP, Braj region accounts for maximum number of trainees.
Dal's Braj region's vice-president and VHP member Sunil Parashar said the training module at the camps includes martial arts, hurdle jumping, air gun firing, rope climbing and use of lathi (sticks) in a combat situation. He said the training in the Firozabad camp will conclude on May 30. The camp is being held at Saraswati Sishu Mandir, a school run by Rashtriya Swayam Sevak Sangh (RSS).
Manoj Verma, national coordinator, said the camps are meant to train participants in nation-building, character building, personality development, value education, humanity development, social uplift, moral education, health education, yoga, career guidance. Besides, self-defence, intellectual conversation is also part of this training wherein many senior leaders of Vishwa Hindu Parishad will come and share their views with the trainees.